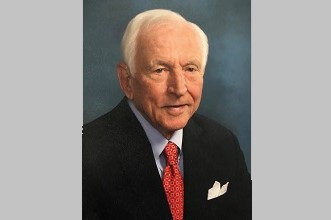 By the Family

Apr. 4, 2018: Born August 9, 1935, in New Orleans, Anson Wright Elliott graduated from Princeton University ('57), earned master's degrees from LSU and Cornell, and served honorably as a captain in the U.S. Marine Corps.
Wright was married to the love of his life, Jane Rader, for almost 43 years. Together, they raised three sons and loved to travel, entertain, golf, and enjoy good food and wine. They settled in Bronxville, where Wright served on the Reformed Church consistory and the Bronxville Board of Education.
Wright enjoyed a distinguished 25-year career with Chase Bank, where he was an executive vice president. His commitment to service was evident in time spent on the boards of directors of the New York Botanical Garden, South Street Seaport, Union Theological Seminary, Police Athletic League, and The Counseling Center.
After his retirement, Wright divided his time between Bronxville and St. Michaels, Maryland, where he discovered his love for crabbing, kayaking, and watching sunsets. Wright particularly enjoyed sharing those times with children, grandchildren, dogs, and dear friends.
In 2005, Wright married Patsy Fleming and relished the time he spent with her children, Liz (David) and Louisa (David), and their children, Matthew, Michael, Claire, Christian, Philip Peter, and William. Along with many visits from friends and family, activities such as cooking, bridge, and movies filled Wright's life with Patsy with great joy. After Patsy's passing, Wright was fortunate to have spent a wonderful time traveling and in the company of friends with his good friend Nancy Loiaconi.
A man of grace, integrity, and style, Wright is survived by his sons, Michael (Karen), Steve (Daniela), and Dave (Margaret); his grandchildren, Cara (P.J.), Connor, Caitlyn, Sophie, Charlotte, Daisy, Rowan, and Caroline; his great-granddaughter, Eloise; and his dog, Simon.
A memorial service will be held at The Reformed Church of Bronxville on April 26 at 11:00 am, followed immediately by a reception at Siwanoy Country Club. In lieu of flowers, donations may be made to The Counseling Center, 180 Pondfield Road, Bronxville, NY 10708.