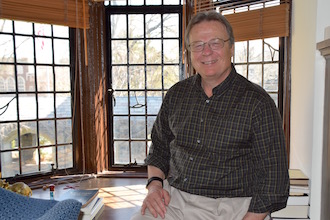 By Carol P. Bartold     

Apr. 13, 2016:  Dr. Kenneth Ruge, senior minister at The Reformed Church of Bronxville has announced that he will retire on August 15, 2016.
"I always had more than an interest, it was a draw or desire to go deeper spiritually into a religious tradition," he said. "Going to seminary felt like a way to try that interest out and explore it."
With a degree in anthropology and sociology from Carleton College, Dr. Ruge took seminary training at Union Theological Seminary in New York City. "By my second year," he said, "it was pretty clear that I wanted to go into the parish ministry or be a pastoral counselor/psychotherapist."
Dr. Ruge, raised in the Methodist Church and ordained a Methodist minister, came to The Reformed Church of Bronxville tradition through Marble Collegiate Church in New York City, where, during an association of more than 20 years, he worked with the church's adult education program and occasionally preached. At the same time, he had a private counseling practice on Manhattan's West Side.
Called to The Reformed Church in 2009, Dr. Ruge noted that the church, in its preaching and teaching, tries to be "a bit challenging" but also broad. "We have people who come from many backgrounds," he said, noting that church membership has people from the Anglican and Roman Catholic traditions, as well as members from evangelical backgrounds. "And then we have the 'nones,' the people who come with no church background who want to know what church is, who want to know if it's welcoming."
Dr. Ruge described The Reformed Church of Bronxville--the church "on the hill"--as working to speak into the culture in a good way.
With one of the largest nursery schools in Westchester County, the church provides a natural conduit into the church for young families with children who have moved to Bronxville in search of a close suburb with a good school, Dr. Ruge believes. "We're a natural artery when they want to join a church," he said.
Dr. Ruge described the church's growing youth ministry as an oasis where young people can find some freedom from constant evaluation. "We give young people a place to ask and explore the questions, 'What's important in life, and what about God, and how does all of this fit into my thinking?'"
"Our mission programs have taken off," Dr. Ruge said. "Coming Home," a re-entry ministry begun about five years ago, works with Sing Sing Correctional Facility and other facilities in the corrections system. Volunteers work with and mentor former inmates coming out of such facilities. "They are welcomed, they are treated with respect and dignity, and the recidivism from this ministry is almost zero." He noted that approximately 85 people have benefitted from the Coming Home ministry.
"I like to think that this church, in some modest way, is having some impact on our culture, or at least creating a forum for discussion," Dr. Ruge said. He noted that, during his tenure in Bronxville, the church has become more diverse by adding people of color and members from a wide range of economic backgrounds.
"Religion matters," Dr. Ruge stated. "Church matters in Bronxville and I believe people really do love the churches here." He added that a good cooperative spirit is at work among clergy in the village.
"Ken is a deeply prayerful and wise leader with a lively sense of humor," said Fr. Michael Bird, rector of Christ Church Bronxville, "qualities which have proven themselves tremendous gifts to the people of this community and the clergy who serve them." Fr. Bird describes his friendship with Dr. Ruge as a great blessing, and ministering alongside him as a privilege.
Bishop Derek Owens, pastor of GoldenSword International Fellowship, remembers the first time he met Dr. Ruge. "He was very warm, very embracing, and had a pastor's heart for a fellow pastor. I have always appreciated his wisdom and insightfulness."
Reverend Lamont S. Granby, pastor at First Baptist Church in Bronxville, remembers the warm welcome he received from Dr. Ruge. "When I first became pastor here, Dr. Ruge reached out to me and welcomed me with open arms," Reverend Granby said. "He let me know he hadn't been in Bronxville too long before I arrived, so we had that kinship." Reverend Granby added that Dr. Ruge is a man of high integrity and morality, easy to talk with and full of wisdom.
As for post-retirement plans, Dr. Ruge smiled and said, "We don't know yet. It's kind of open-ended."

Pictured here:  Dr. Kenneth Ruge, retiring in August.
Photo by A. Warner