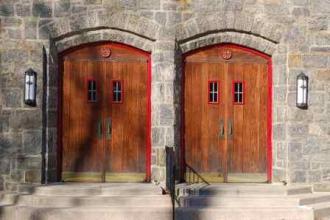 By Katie Gojkovich, Director of Development, Christ Church Bronxville

Apr. 6, 2016:  On Monday, April 11, at 7:30 pm, Young at Arts ("YAA") will hold its 11th annual benefit concert at Christ Church. An hour of cocktails, light fare, and a silent auction will precede the performance at 6:30 pm.
Over 100 select students from YAA's three campuses will share the stage with stars from Broadway's The Lion King and Kinky Boots, as well as an opera diva and ballet dancers. The Broadway stars performing are L. Steven Taylor, Chantel Riley, and Bonita Hamilton from Disney's The Lion King.
Other guest artists include Cortney Wolfson, from Cyndi Lauper's Kinky Boots, and soprano Laquita Mitchell, known for her role as Bess at the San Francisco Opera.
The evening will also feature dance by faculty of YAA's recent partnership with Scarsdale Ballet, Diana White, artistic director. The evening will be led by co-musical directors Charles and Annbritt duChateau, from Broadway shows The King & I and Aladdin, respectively.
Other musicians for the evening are a combination of YAA faculty members and additional Broadway guest artists who have backed up artists from Barbara Streisand to Beyonce.
Founded in 2005 by director Sharyn Pirtle, Young at Arts is a dynamic, non-profit performing arts educational organization dedicated to helping young people expand their horizons and build character through music and drama. By bringing together children of different backgrounds in a collaborative environment, students learn skills that serve them well for the rest of their lives.
Young at Arts serves an area encompassing the Bronx and Southern Westchester County, where over 50 percent of the children live below the poverty line and where arts education is virtually absent in schools. Children from different backgrounds share a love for the performing arts while developing the values of leadership, discipline, integrity, and community to make them tolerant, global citizens of our world.
To find out more about Young at Arts and its vital work enriching the lives of children through the arts, please visit its website, www.youngatartsny.org.
Tickets are $500 for VIPs, $200 for general admission, and $100 for youth. Buy tickets online at www.youngatartsny.org/benefit-2.
Pictured here:  Front doors of Christ Church Bronxville.  

Photo by A. Warner