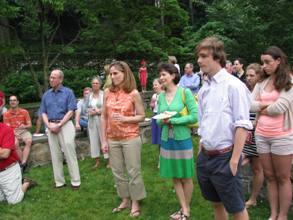 June 29, 2011:  The undercroft and terrace of Christ Church Bronxville were the setting for the annual Christ Church spring picnic, which was held on Sunday, June 12, in spite of the threat of rain.
As well as being an opportunity for neighbors, fellow worshippers, and clergy to come together informally, the picnic gave Father Michael Bird, the Christ Church rector, an opportunity to present the departing parish secretary, Elisabeth Campbell, with tokens of appreciation from the congregation and church staff for her years of service to the church.
As the afternoon progressed, the weather continued to be fair, and except for the fact of Elisabeth's departure, a very good time was had by all.
To see photos from the picnic, hit the link below:
Pictured here:  Members of Christ Church Bronxville attending the June picnic.
Photo by A. Collins