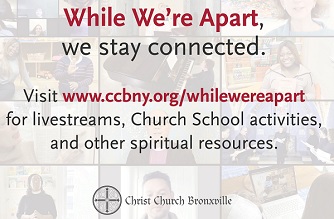 By VIncent Preti, Communications Director at Christ Church Bronxville 
Apr. 1, 2020: While we're apart from one another helping to flatten the curve of COVID-19, we invite all in the community to join us on our new webpage, aptly titled While We're Apart. The webpage includes various digital resources to help us keep faith and community at the forefront while we are unable to physically be together. Here are some highlights:
Daily Livestreams: On Sundays, at 10:00 AM, we are holding livestream services directly from Christ Church. We are fortunate to have much of our staff living in the parish complex, enabling us to offer these services, live music, and sermons to the community. The bulletin is published weekly on our website and sent out through our parish newsletter. Additionally, every weekday we are livestreaming our Noonday Prayer Services and a Musical Meditation at 12:00 PM.
Church School at Home: Though Church School isn't in session, we've created Church School at Home, weekly step-by-step lessons centered around Biblical stories. Each lesson includes video instruction, cartoons, prayers, and interactive crafts. There are two lessons released every Friday: one for younger children in the Godly Play Class (ages 3 - 1st grade) and one for older children in the Godly Dialogue Class (2nd - 6th grades). Although the lessons were designed for those age groups, all children (and all adults) will certainly be able to follow along and take something from both lessons. We encourage parents to follow along with their children and get the whole family involved! 
Classes for Adults: Periodically, we will be holding Zoom classes. Our first class will be a two-part series on the power of Holy Week as story, liturgy, and a model for life in these times. The class begins on Wednesday, Apr. 1, at 7:00 PM and will continue the following Wednesday, Apr. 8, at 7:00 PM. A Zoom link will be provided on the While We're Apart webpage. 
Weekly Digital Schedule:
-Sundays at 10:00 AM: Sunday Livestream from Christ Church
-Monday - Friday, 12:00 PM: Noonday Prayer Livestream and Musical Meditation from Christ Church
-Wednesdays at 7:00 PM - Short Series Zoom classes for adults
-Fridays: Church School at Home activities distributed
We will soon announce our digital schedule for Holy Week and Easter. Stay home, stay safe, and remember that you are always in the loving presence of God.
CLICK HERE to visit the While We're Apart webpage.
CLICK HERE to subscribe to our YouTube channel.
CLICK HERE to subscribe to our Parish Newsletter
Photo courtesy Christ Church Bronxville

Editor's note: As a public service, MyhometownBronxville publishes articles from local institutions, officeholders, and individuals. MyhometownBronxville does not fact-check statements therein, and any opinions expressed do not necessarily reflect the thinking of its staff