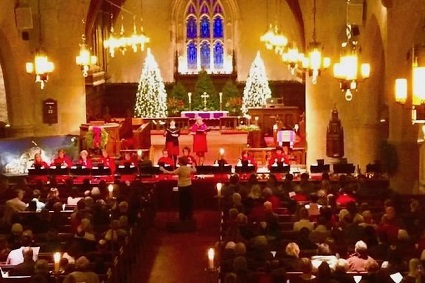 By L. Corbett, Director of Handbells, The Reformed Church of Bronxville
Dec. 11, 2019:  On Sunday, December 15, at 3:00 pm in the main sanctuary of The Reformed Church of Bronxville, three handbell choirs will combine to lead a beautiful handbell processional down the center and side aisles of the sanctuary, ringing in the beginning of the annual holiday handbell concert.
The choirs to perform are the Concert Ringers (adults), the Kirk Ringers (ninth to twelfth grades), and the Whitechapel Ringers (sixth to eight grades)
The concert is free and will last one hour.
From the sublime Lo, How a Rose E're Blooming, to the rollicking Fum, Fum Fum, and the final 
carol, Joy to the World with organ, singing and a cacophony of bells throughout the church, this is a concert not to be missed.  
Please note the new time of 3:00 pm.
Photo by Cindy Tether
Editor's note: As a public service, MyhometownBronxville publishes articles from local institutions, officeholders, and individuals. MyhometownBronxville does not fact-check statements therein, and any opinions expressed therein do not necessarily reflect the thinking of its staff.