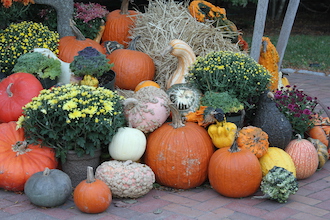 Nov. 7, 2018: The following information was supplied by the local churches.
The Reformed Church of Bronxville
The Reformed Church of Bronxville will host its annual Community Thanksgiving Dinner at the church beginning at 11:30 am on Thanksgiving Day. The community is invited to attend. The dinner will be held in the Congregational Hall (entrance on Midland and Kraft Avenues). The suggested donation is $15. Please RSVP by November 16 by sending an email to CLOAKING or by calling 914-337-6776, ext. 153.
West Center Congregational Church
All Welcome: The 45th Annual Bronxville Thanksgiving Community Service will be held on the Monday evening of Thanksgiving Week (Monday, November 19, 2018) at 7:30 pm at West Center Congregational Church, 101 Pondfield Road West. All are welcome to join us in giving thanks at this very special service with a long tradition in our Bronxville community.
Photo by N. Bower

Editor's note: As a public service, MyhometownBronxville publishes articles from local institutions, officeholders, and individuals. MyhometownBronxville does not fact-check statements therein, and any opinions expressed therein do not necessarily reflect the thinking of its staff.