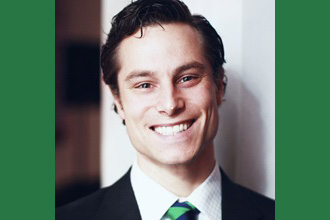 By Sam Clover, Associate Minister, The Reformed Church of Bronxville

Oct. 24, 2018:  After a lengthy search following the retirement of The Rev. Dr. Kenneth C. Ruge in August of 2016, The Reformed Church of Bronxville has called The Rev. Dr. Matthew Waterstone to be the church's 21st senior minister. The call was formally announced in an October 1 letter to the congregation from The Rev. Samuel T. Clover, an associate minister who had been acting as president of the consistory until the new senior minister arrived, and Bill Hertlein, vice president of the consistory.
In making the announcement, Clover and Hertlein stated, "Dr. Waterstone impressed the nominating committee with his perceptive, wise, and engaging sermons, which are scripturally based but timelessly appropriate and delivered with freshness and vigor." In an accompanying letter, chair of the senior minister of the nominating committee, Paul Muir, stated, "His preaching is Christ-centered, biblical, compelling, inspiring, and relevant for today. . . . His deep connection and sincere pastoral care for his congregation is palpable and interwoven into his preaching, which makes his message even more genuine and personal to the listener."
Dr. Waterstone, his wife of 11 years, Sarah, and children Willem, 7, and Bram, 4, moved to the village last week. He began preaching this Sunday, October 21, at all three Sunday services—8:30 am, 10:30 am,  and 5:00 pm—and he will be formally installed on Sunday, November 11, at 3:00 pm.
For the last ten years, Dr. Waterstone, 35, served as senior minister of the First Reformed Church in South Holland, IL, a suburb of Chicago. During his tenure, the church's membership more than doubled, and he oversaw a staff of nine. From 2013, he also served as chaplain to the South Holland Fire Department and an adjunct faculty member at Trinity Christian College in neighboring Palos Heights, IL. He is the author of the book Dear Church: Letters to My First Church, as well as many articles, blogs, and podcasts.
Ordained in the Reformed Church in America and a native of Holland, MI, Dr. Waterstone graduated Phi Beta Kappa from Hope College and holds master of divinity and doctorate of ministry degrees from Western Theological Seminary. On a denominational level, he is a member of the Commission on Race & Ethnicity and served on the search committee for the General Secretary of the RCA, who was installed this past summer. Dr. Waterstone is also an accomplished athlete, having qualified for the Boston Marathon and completed an Ironman race.
For more information, contact The Rev. Samuel T. Clover at 914-337-6776, or  CLOAKING . The church website is www.reformedchurch.org.
Pictured here: The Rev. D. Matthew Waterstone.
Photo courtesy Sam Clover, Associate Minister, The Reformed Church of Bronxville 
Editor's note: As a public service, MyhometownBronxville publishes articles from local institutions, officeholders, and individuals. MyhometownBronxville does not fact-check statements therein, and any opinions expressed therein do not necessarily reflect the thinking of its staff.