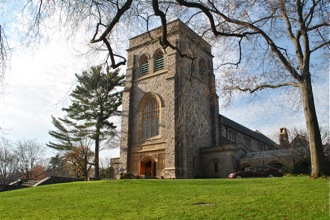 By Phia Primps, Member, The Reformed Church of Bronxville

Sep. 12, 2018:  On Saturday, September 22, from 11:00 am to 4:00 pm, the Al Amana Centre and Rose Castle Foundation will hold a workshop at The Reformed Church of Bronxville titled Disagreeing Well.
This will be a practical workshop for Muslims and Christians to engage in dialogue across faith differences. The workshop is for active members of Muslim and Christian communities throughout New York and Westchester.
In the morning session, there will be interactive activities addressing respectful dialogue and management of conflict. Lunch will be provided at 1:00 pm.
In the afternoon, there will be an introduction to and interactive session on Scriptural Reasoning, a method of dialogue that centers on hospitality in listening and learning from one another by discussion of passages from each other's scriptures.
If you are interested in attending, please RSVP to Annalisa.jackson@rosecastle.foundation. There is a suggested donation of $25.
Editor's note: 
The Al Amana Centre is an organization in Oman whose purpose is to "facilitate ... interfaith dialogue and peace-building between Christians and Muslims through interfaith tours, study-abroad programs, interfaith conferences, and more." It works in America with Reformed Churches to further its mission.
The Rose Castle Foundation is an organization in Great Britain that encourages reconciliation of those in conflict: "We create hospitable spaces where those in conflict can meet face-to-face. ... Using a practical tool-kit including active listening, reflective practices, role play and Scriptural Reasoning, participants learn the principles and practice that make better quality disagreement possible. They learn to work together without needing to agree or approve of one another's ideology."
Scripturalreasoning.org explains: "Scriptural Reasoning (SR) is a tool for inter-faith dialogue whereby people of different faiths come together to read and reflect on their scriptures. Unlike some forms of inter-faith engagement, it is not about seeking agreement but rather exploring the texts and their possible interpretations across faith boundaries, and learning to 'disagree better.' The result is often a deeper understanding of others' and one's own scriptures, as well as the development of strong bonds across faith communities. SR is now practised globally, including in places affected by religion-related tensions and conflict."
Editor's note: As a public service, MyhometownBronxville publishes articles from local institutions, officeholders, and individuals. MyhometownBronxville does not fact-check statements therein, and any opinions expressed therein do not necessarily reflect the thinking of its staff.