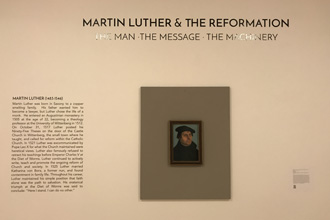 By Staff, Village Lutheran Church

Oct. 11, 2017:  Concordia College and Village Lutheran Church will hold a concert on Sunday, October 29, at 4:00 pm in the church in celebration of the 500th anniversary of the Reformation. The concert will feature music by Lutheran composers.
The performers will be soloists and small groups from the Bronxville community, plus the Concordia Chancel Choir and Chapel School Select Choir, culminating in a performance of the Bach cantata "Nun danket alle Gott," BWV 192.
Admission is free and a reception will follow. A collection will also be taken for hurricane relief.
"Next to the Word of God, the noble art of music is the greatest treasure in the world." ~ Martin Luther.
Pictured here: Taken at the exhibition at OSilas Gallery on the campus of Concordia College titled Martin Luther & the Reformation: The Man, the Message, the Machinery.
Photo courtesy Village Lutheran Church