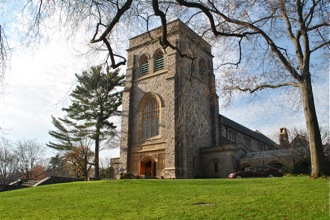 By Staff, The Reformed Church of Bronxville

Oct. 4, 2017:  The Reformed Church of Bronxville will be holding its annual Blessing of the Animals on Sunday, October 8, from noon to 1:00 pm in the grassy cloister area on Pondfield Road.
The Blessing of The Animals gives us an opportunity to acknowledge the life and contributions of St. Francis of Assisi--his service to the poor, his tender care of all creation, and his respect for nature. 
This gathering will also allow us to honor and celebrate all of God's creatures and the special relationship we have with them.
We encourage you to bring your special animal companion and have them blessed by our clergy. 
We ask, for everyone's safety, that dogs be on leashes and cats in carriers. 
If your companion does not travel well or is deceased, you can bring his or her photo to be blessed.

Pictured here:  The Reformed Church of Bronxville, where the Blessing of the Animals will take place.

Photo by A. Warner