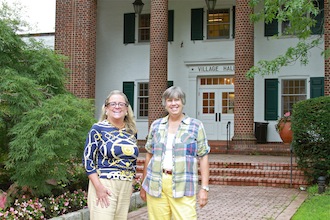 August 24, 2011:  Twenty-five landscapers from throughout southern Westchester gathered in Bronxville Village Hall on Thursday, August 9, for a meeting and a demonstration sponsored by the Bronxville Green Committee and attended by Mayor Mary Marvin.

"My client gets very angry when a few leaves blow across his lawn from a neighbor's yard," said a landscaper at the meeting.  His complaint was echoed by several of the other landscapers who appeared at the meeting.  Some of them complained that clients seem to want their lawns as pristine as a golf course.

In contrast, some landscapers outlined measures that would save time and money.  The expenditure can be significantly reduced by shredding leaves into small pieces and leaving them on lawns.  This process has come to be known colloquially, particularly in Westchester County, as "love 'em and leave 'em," and the slogan is endorsed and used by the Bronxville Green Committee, chaired by Mary Liz Mulligan.  

The process was described in detail by Tim Downey, proprietor of Aesthetic Landscape Care in Hastings.  He also replied to skeptical landscapers in the audience.  He recalled years of backbreaking labor collecting and carting off leaves and contrasted that hard labor with his present practice of shredding leaves and leaving them on the lawns, thereby alleviating the need to blow, collect, and dispose of them.  Leaves can be shredded into very small pieces by a mulching mower, a shredder/clipper, or a vacuum shredder.  This process can reduce leaf volume to one-tenth the volume of leaves that have not been shredded.

There are many advantages of shredding leaves and leaving the fine pieces on the lawns.  The cost to the village of removing leaves would be reduced, thereby reducing taxes to homeowners.  Dumping fees to the village are currently $30,000 and, when added to other costs of removal, including labor costs and the costs of equipment maintenance, gas, etc., the aggregate cost of leaf removal to the village can increase well beyond $30,000.
Shredding and retaining the leaves on lawns can also foster natural ways of avoiding environmental problems.  Fallen leaves, sometimes spread from the piles left on the streets, block drains and add to potential flooding, whereas shredded leaves left on the lawns would virtually eliminate this problem thereby contributing to flood mitigation.  In addition, the water-holding capacity of soil is increased so that more rainwater runoff is absorbed.
The shredded leaves left on lawns supply vital nutrients to the soil because the pieces break down over the winter and fertilize the grass, thereby also removing the need for chemical fertilizers.  The practice increases the biological activity of earthworms, microbes, and other beneficial soil organisms, all of which contribute to the decomposition of the shredded leaves.  A thick layer of fallen leaves that have not been shredded can smother the grass, noted Mulligan, since such leaves cannot break down as readily as shredded leaves.
Mayor Marvin said rules against seasonal use of gasoline-powered leaf blowers from June 1 to September 30 were instituted as a quality-of-life measure in response to complaints of noise and debris.  Another disadvantage of leaf blowing is that it kills the top soil by removing leaf duff, top dirt, and beneficial organisms.

Following the discussion, a leaf-mulching demonstration was carried out on the front lawn of Village Hall in the midst of a torrential downpour.  The mulching mower, which is equipped with a special blade, did its work on a heap of leaves in several minutes, and landscapers, who were huddled in a doorway to witness the operation, generally approved.

Pictured here:  Mayor Mary Marvin (L) with Mary Liz Mulligan, who organized the Bronxville Green Committee, meeting with local landscapers.

Photo by N. Bower