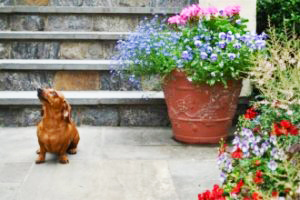 June 8, 2011:  The Bronxville Beautification Council (BBC) is sponsoring its Fourth Annual Garden Tour on Saturday, June 11, from 10:00 am until 4:00 pm, rain or shine.  Specific addresses will not be revealed to the public until the day of the tour.
On that day, selected Bronxville homeowners will open their exquisite private gardens for the public to visit and enjoy.  The tour will be self-guided, allowing visitors to enjoy each garden at their own pace.  The event will be capped with a wine-and-cheese reception at one of the garden homes.
The gardens were chosen by the BBC to represent an array of garden sizes, gardening styles, and innovative gardening technologies, and each ranks quite high among the village's many gardens.
The tour will start on the lawn in front of Village Hall where BBC members will hand out to ticket holders tour maps and directions to each home.
Garden Tour tickets cost $20.00.  They are available at area retailers and can also be purchased on the day of the event at the BBC desk in front of Village Hall.
For additional information, contact Carolyn Moriarty at 914-793-6918 or at CLOAKING .