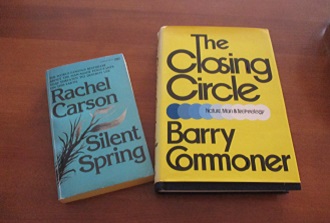 By Ellen Edwards, Chair, Bronxville Green Committee
Apr. 15, 2020:  Earth Day 2020 is April 22, 2020.  This is the 50th Anniversary of Earth Day and you can tune in to live events here.  Here are some other great links with Earth Day information.
Please consider participating in virtual Earth Day events and add your name to the Do Just 1Thing pledge

Earthdayinitiative.org/dojust1thing
As the 50th anniversary of the first Earth Day approaches, I've been remembering that joyous demonstration of solidarity on April 22, 1970, and our idealistic belief at the time that we could change the world. I've been comparing it with the present moment, in which enthusiastically planned Earth Day 2020 events have had to be scaled back and moved online because we are held hostage by a virulent disease. 
The first Earth Day arose from concerns about visible, widespread pollution—smog that in July turned the sky over New York City yellow, midwestern rivers that infamously caught fire, piles of litter that choked waterways, and smokestacks that belched black plumes. 
Rachel Carson's book Silent Spring and her testimony before the U.S. Senate about the harmful effects of pesticides were powerfully effective in raising awareness. By the time Wisconsin Senator Gaylord Nelson had the idea of holding a nationwide "teach-in" and harnessing the energy of activists on college campuses to organize events, the country was primed to demand change. According to Earth Day Network, a nonprofit that promotes environmental awareness, on the first Earth Day, 20 million Americans—an astounding 10% of the U.S. population—took part in marches and rallies, filled streets and classrooms. Disparate groups that had been protesting oil spills and toxic dumps, pesticides and endangered wildlife, joined in one united demonstration.  
One of the participants was me. As a high school sophomore in Connecticut, my fifteen-hundred fellow students and I took part in an all-day environmental symposium. That experience, and a semester of environmental science, made me a lifelong environmentalist. Now, fifty years later, I feel compelled to ask: What have we achieved in the ensuing decades? 
Soon after that first Earth Day, the nascent environmental movement enjoyed significant achievements—Republicans and Democrats joined together to pass the Clean Air, Clean Water, and Endangered Species acts. Congress also created the U.S. Environmental Protection Agency (EPA).  
Soon, the world around us looked a lot cleaner. But over time, we learned that the health of the natural world was a lot more complex and more compromised than what we could easily see. Even as scientific data began to expand our understanding, scientists warned of a bigger threat: climate change. 
I have a vivid memory of a 1970 list of environmental problems in order of importance. At the very bottom was "greenhouse effect." We didn't pay it much attention then—there was so much else to worry about!—but I do remember one scientist warning that if the greenhouse effect was as significant as the research suggested, we were all in big trouble.  
Of course, he was speaking of what we now know as climate change. And in the past decades scientists have amassed reams of data that firmly establishes what many scientists call "climate collapse." The planet's life-sustaining cycles are seriously out of balance and increasingly unable to support life as we know it. 
It's hard to believe this when surrounded by this glorious Bronxville spring. But threatening that spring are concrete dangers, some distant, some invisible. These dangers include: (1) the massive amounts of greenhouse gases such as carbon dioxide and methane being released each day that are upsetting the balance of major ecological cycles of air and water (2) the oil wells, fracking processes, and mining operations that ravage the earth, and (3) the tens of thousands of man-made organic compounds that we release into the air and water with little understanding of how they will interact with natural chemical processes.  
We've accepted these trade-offs as necessary for our comfortable lives, and we've been able to isolate ourselves from their worst effects, but scientists are warning that the bill of reckoning is coming due. The terrible pandemic in our midst reminds us again that what we don't see can harm us.  
Recollections of that first Earth Day inspired me to revisit a book that was influential at the time--The Closing Circle by Barry Commoner (Knopf, 1971). Commoner was an outspoken biologist, ecologist, and educator with degrees from Columbia and Harvard, one of the public faces of the early environmental movement.  
In his bestseller, I sought clues to how far we humans have come in understanding our impact on the natural world. Two of Commoner's statements seem as striking and relevant today as they were then. 
First 
"Suddenly we have discovered what we should have known long before: that the ecosphere sustains people and everything that they do; that anything that fails to fit into the ecosphere is a threat to its finely balanced cycles; that wastes are not only unpleasant, not only toxic but, more meaningfully, evidence that the ecosphere is being driven towards collapse." (Page 12)
And second:
"In the eager search for the benefits of modern science and technology, we have become enticed into a nearly fatal illusion: that through our machines, we have at last escaped from dependence on the natural environment."  (Page 15)
Today, as we live with conditions that were unimaginable just a few weeks ago, I wonder if now we can also imagine a world upended by the effects of climate collapse. And if consequently we can also envision reordering our personal priorities to take action to prevent the worst consequences.  
Can we work together to build a society that is not dependent on fossil fuels? Can we endeavor to restore the natural balances we have upset and create a new world, healthy and whole, in which all life thrives? 
Today we feel more than ever just how connected we are—to each other, to nature. 
If we take this lesson to heart, if we feel it in our bones and teach it to our children, then there may be hope for a time when every day is Earth Day.
Photo by E. Edwards

Editor's note: As a public service, MyhometownBronxville publishes articles from local institutions, officeholders, and individuals. MyhometownBronxville does not fact-check statements therein, and any opinions expressed do not necessarily reflect the thinking of its staff.