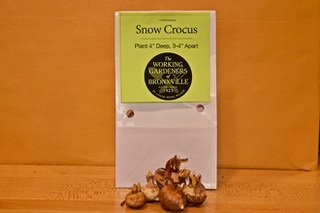 By Regina Baio, member, Working Gardeners of Bronxville
Nov. 6, 2019: A pop-up Seed Library has sprouted on the shelves opposite the check out desk at the Bronxville Public Library. While supplies last, library patrons are welcome to take home and plant a package of Snow Crocus bulbs.
Each package contains five bulbs, also called "corms" of "Crocus Chrysanthus," one of the earliest blooming spring bulbs. Plant the bulbs four inches deep and three to four inches apart from now until when the ground freezes. After planting, water just once to get the roots growing.
Snow Croci are perennials, and so will bloom late winter or early spring year after year, and each bulb can produce several blossoms. Next year expect a cheerful display of color that will lift your winter-weary spirit with the promise that spring is just around the corner!
The Snow Crocus Seed Library is sponsored by The Working Gardeners of Bronxville, a garden club whose primary objective is to stimulate knowledge and love of gardening among amateurs.
It was founded in 1925 by Louise Beebe Wilder, a renowned author of books about gardening and Bronxville resident.
On Thursday, November 7th, members of The Working Gardeners will describe how to plant Snow Crocus bulbs to the children at the Library's regular Preschool Storycraft.
Pictured:  Package of Snow Crocus Bulbs
Photo by N. Bower
Editor's Note: As a public service, MyhometownBronxville publishes articles from local institutions, officeholders, and individuals. MyhometownBronxville does not fact-check statements therein, and any opinions expressed do not necessarily reflect the thinking of its staff.