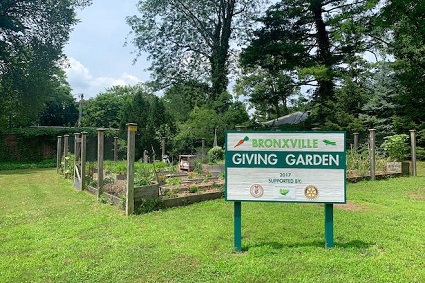 By Mary Liz Mulligan, Director, Bronxville Giving Garden
Jul. 17, 2019:  Ever wonder what that garden is in front of Bronxville Village Hall? It's the Bronxville Giving  Garden ("BGG"), which is now in its third growing season. Although the first season was not a full growing season because of ongoing construction of the beds and fencing installation and other normal occurrences, we produced almost 200 pounds of organic vegetables that we donated to a soup kitchen in Mount Vernon and ECAP (Eastchester Community Action Partnership) in Tuckahoe. They continue to be the benefactors of the BGG harvests and are very grateful for all.
The BGG would not be in existence had it not been for Dave Phillips, who we affectionately dubbed Farmer Dave. Dave is an extremely talented musician who has been playing the bass for The Book of Mormon for several years. He also gives many local kids one-on-one string instrument lessons. When we met, set up by Mayor Marvin, we were at opposite ends of the spectrum:  Dave the artist; me the organizer. Dave brought in his buddy, a Bronxville resident, Nicki Coddington Piercy, a brilliant and talented webmaster, and the rest flowed from there.  Everyone involved with the BGG is a volunteer.
Of course, you need substantial financial backing for any venture, including compost and plants. We were fortunate to have received very generous donations from the Rotary Club of Bronxville and the Village of Bronxville. That was our seed money, literally. As key as those funds were, it didn't take long to put a big dent in the bottom line. Going forward, we are 100% responsible for sustaining the BGG. We have been fortunate to do so by relying on the generosity of local residents.
The BGG has several missions:  paramount is helping our neighbors in need by giving them fresh vegetables over the growing season; conducting hands-on classes for school-age children from ages four and up; involving local residents and encouraging them to "dig in" and help maintain the BGG by weeding, harvesting and delivering; and by performing any other odd jobs that pop up. Our "working" website (BronxvilleGivingGarden.org) allows residents to sign up for volunteering for what interests them as well as signing up for emails with reminders and information on current "happenings."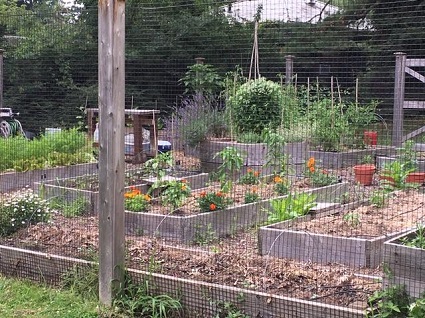 We all know there is very limited green space in the one square mile of Bronxville.  We hope to make the BGG a destination spot for residents to visit and sit and smell the tomatoes. It will not be a "park" but will be a peaceful place to relax and take in the beauty of nature. We will be adding some landscaping and seating by the fall to make this a reality.
The BGG is under the umbrella of the Bronxville Green Committee, which has been in existence for over ten years. The Bronxville Green Committee's mission is to help residents "green" their lives in realistic ways through sharing green initiatives that are doable. The BGG is one of these initiatives, although not a small one. Please check the Green Committee's page on the village's website, villageofbronxville.com, for more information. 
If you are interested in digging in the dirt or would like more information about the BGG or if you would like to help support the garden, please contact us at CLOAKING or by mail at PO Box 404, Bronxville, NY 10708. 
And, yes. It does take a village!
Pictured here:  Bronxville Giving Garden.
Photos by A. Warner
Editor's note: As a public service, MyhometownBronxville publishes articles from local institutions, officeholders, and individuals. MyhometownBronxville does not fact-check statements therein, and any opinions expressed therein do not necessarily reflect the thinking of its staff.