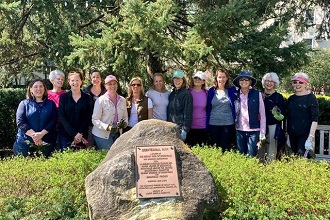 By Liz Hoskinson, Member, Boulder Ledge Garden Club
May 8, 2019:  Members of the Boulder Ledge Garden Club ("BLGC") gathered on April 23 to help Bicentennial Park sparkle for the upcoming summer season. On the corner of Pondfield Road and Meadow Avenue in Bronxville, the park is one of seven parks strategically located throughout the Village of Bronxville, offering a lovely respite at any time of day. 
BLGC members jumped right in, with top guidance provided once again by Ani Adishian, who not only serves as horticulturalist for Sarah Lawrence College and other properties but served as the little park's landscaper back in 2012, when it went through an update that was completed in 2014.   
BLGC members weeded out the tulip and daffodil beds, re-shaped the spirea and rose bushes, lopped tree branches, and generally tended to the wide variety of plants that populate the 40-year-old park. Ani provided excellent gardening tips, such as the value of judiciously thinning out the hedges, which can allow air and light to penetrate and promote healthy growth. 
Everyone also took a moment to admire the two new native-species red maples recently planted adjacent to the park on Meadow Avenue. These trees were purchased by BLGC to assist the village to replace trees lost to recent storms.  
After a nearly two-hour effort, Bicentennial Park was cleaned up, with all the plants looking healthy and happy and BLGC members pleased with their contribution to the upkeep and aesthetics of the village.  
Pictured here (L to R): Ani Adishian, Marty Meserole, Lisa Harrington, Jane Scotti, Gloria Bisaccia, Lisa Purdy, Elisabeth Holland, Liz Hoskinson, Susan Bettino, Eileen Marshall, Bea Welch, Wendy Murphy, and Ann Bernstein. 
Editor's note: As a public service, MyhometownBronxville publishes articles from local institutions, officeholders, and individuals. MyhometownBronxville does not fact-check statements therein, and any opinions expressed therein do not necessarily reflect the thinking of its staff.