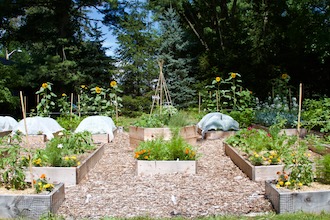 By Carol P. Bartold, Senior Reporter
Jul. 19, 2017:  The Bronxville Giving Garden, located at Bronxville Village Hall near the corner of Pondfield Road and Gramatan Avenue, has already donated its first harvest of arugula, radishes, and lettuce to the Community Services Associates (CSA) Soup Kitchen of Mount Vernon.
"The garden is popping," said Mary Liz Mulligan, chair of the Bronxville Green Committee, operator of the 450-square-yard plot, established this spring. Mulligan added that string beans are almost ready to be harvested.
With one in five Westchester County residents fitting the definition of food insecurity, meaning they have no reliable access to a sufficient amount of affordable, nutritious food, the Bronxville Giving Garden's mission is to help feed people in need in the lower county.
"Everything grown in the garden is for local food pantries," Mulligan said. "We want to feed hungry people good food." Nineteen planting beds will provide organically grown vegetables and herbs to three local agencies in neighboring communities that distribute food. In addition to CSA of Mount Vernon, Eastchester Community Partnership in Tuckahoe and Food Bank for Westchester will receive harvest donations.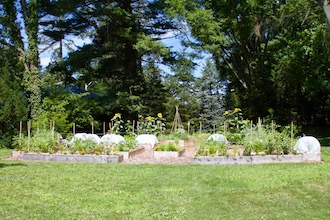 Beds, all built by the garden's farmer, Dave Phillips, and his friends, are planted with cucumbers, carrots, lettuce, cabbage, squash, peppers, scallions, Swiss chard, potatoes, beets, kale, mustard greens, and several varieties of tomatoes. The garden also contains flowers such as nasturtiums to aid pollination and marigolds to deter insects. Mulligan said she hopes to add butterfly bushes to the mix. A drip irrigation system keeps the plantings watered.
Mulligan credits Phillips for bringing the vision of the garden into a physical reality. In 2016, the village resident, an avid gardener, approached Mayor Mary Marvin about establishing a community garden in Bronxville. Marvin put Phillips in contact with Mulligan and the Bronxville Green Committee.
Also in 2016, the Rotary Club of Bronxville honored Mulligan at its annual fundraiser and, with the money raised at that event, donated $10,000 toward establishing the community garden. Village trustees decided to donate the insurance proceeds from the 2006 Girl Scout cabin fire in Maltby Park to add to the "seed" money for the garden. 
Although plans drawn by the village included space for the garden in Maltby Park, neighbors were not receptive to the plan, nor did the plot have access to a water supply. Village officials learned that installing one would be cost-prohibitive. Three locations at village hall, each with an accessible water supply, were evaluated, and the location near Pondfield Road and Gramatan Avenue was chosen.
Mulligan noted that as the organization of the Bronxville Giving Garden and its programs develops, benches and a perimeter fence will be installed. Plans also call for gardening and nutritional tutorial sessions for students.
"This was unused space and now it's a nice, welcoming place," Mulligan said. "This is for our neighbors. We have many who are in need."
Pictured here:  The Bronxville Giving Garden.
Photos by N. Bower