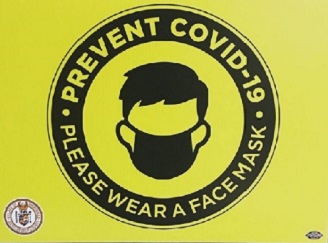 By Staff
Sep. 23, 2020: Below is local COVID-19 news this week.
Yesterday, as the United States hit the tragic milestone of 200,000 deaths from Covid-19, Governor Cuomo urged New Yorkers to stay vigilant. He said that new cases across the US had increased "more than 15 percent in the last ten days" and urged New Yorkers "to continue to wear masks, socially distance and take other precautions."
As of yesterday, the Governor said the Covid-19 positive rate among those tested in New York was .89 percent.
This week, the Governor extended the moratorium on commercial evictions to October 20, 2020, "in recognition of the financial toll the pandemic has taken on business owners, including retail establishments and restaurants."
The Governor also reported this week that the State Liquor Authority suspended liquor licenses for 33 bars and restaurants and that, to date, 201 licenses had been suspended during the Coronavirus pandemic. He also said that the State Department of Motor Vehicles had expanded its online services. Click here to read more.
View the NY. State COVID-19 Tracker here.  
Photo at top courtesy Bronxville Police Department