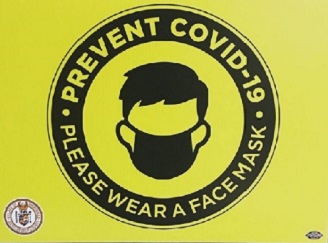 By Staff
Jun. 10, 2020: Yesterday, June 9, 2020, was Day 100 since New York had its first confirmed COVID-19 case. The entire state is now in the reopening process.  Westchester, which is part of the Mid Hudson Region, is in Phase 2 of reopening. 
This week, Governor Cuomo announced that summer day camps can open on June 29th and that "low-risk outdoor recreational activities can resume in "regions that have met the public health and safety metrics required for Phase 1." These activities include "tennis, non-motorized boat use and rentals (such as kayaks and rowboats), and golf and driving ranges."
New York State has three dashboards with important data:
Other Local COVID-19 News This Week
New York State COVID Statistics
According to the New York State Department of Health, as of June 9, 2020, at 5:00 PM, there are 379,482 positive cases in New York State. This includes 34,035 in Westchester County. A total of 1,527 people in Westchester County have passed away from COVID-19.
Click here for a full breakdown by county.
Other Local COVID-19 News This Week
On June 4, 2020, Governor Cuomo announced that New York expanded Coronavirus testing criteria to include all protesters who attended recent events. He also said that medical schools are allowed to reopen on June 22 and that "medical schools are following appropriate precautions in order to safely prepare for and welcome new cohorts of medical students this summer and fall."
On June 6,  2020 Governor Cuomo signed legislation banning price gouging of personal protective equipment through the remainder of the COVID-19 pandemic. He announced that places of worship would be permitted to reopen with 25 percent occupancy with all social distancing protocols in place during Phase 2 of reopening. 
On June 7, 2020, Governor Cuomo said the state "is launching a new focused testing strategy in NYC to closely monitor reopening." This includes performing 35,000 tests per day in New York City and "prioritizing 15 testing sites across the city for individuals who have participated in protests." The Governor also announced that outdoor, socially distanced graduation ceremonies of up to 150 people would be allowed beginning June 26. He further said, "This is subject to any outbreaks or significant changes in the metrics." 
On June 9, 2020, Governor Cuomo  Yesterday, I signed legislation authorizing local governments to extend this deadline for filing property tax abatements to July 15, 2020.  This was in recognition of the hardships many families and businesses continue to face as a result of the COVID-19 pandemic. 
Photo courtesy Bronxville Police Department