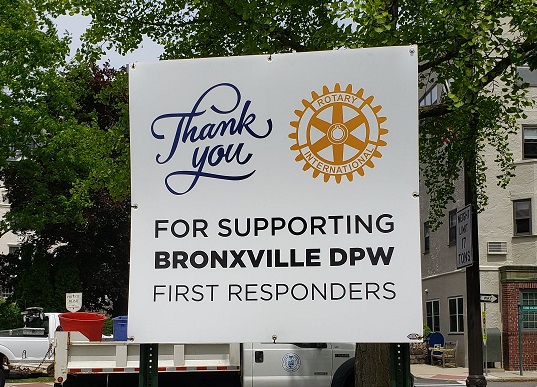 The Rotary Club of Bronxville has supported the DPW with gift certificates to village restaurants and the DPW first responders chipped in to make this sign of thanks
By Staff
May 27, 2020: Below is the local COVID-19 report for this past week.
On May 26, 2020, Governor Cuomo announced that the Mid-Hudson Region, which includes Westchester, had met all seven metrics to reopen. Westchester can now begin Phase 1 reopening. Click here to see the "Regional Monitoring Dashboard."
According to the NY Forward Reopening Guide, the following businesses can open in each phase, with new safety protocols.
Phase 1 Businesses: construction, manufacturing, wholesale, trade, select retail for curbside pickup only, agriculture, forestry, and fishing.
Phase 2 Businesses: professional services, finance and insurance, retail, administrative support, real estate, rental, and leasing.
Phase 3 Businesses: restaurants and food services
Phase 4 Businesses: arts, entertainment, and recreation, education
New York State COVID Statistics
According to the New York State Department of Health, as of May 26, 2020, at 8:30 PM, there are a total of 363,836 positive cases in New York State. This includes 33,107 in Westchester County. A total of 1,469 people in Westchester County have passed away from COVID-19.
Click here for a full breakdown by county.
Other Local COVID-19 News This Week
On May 20, 2020, Governor Cuomo reported that the data collected from approximately 8,000 individuals shows "high positive rates and continued high community spread in lower-income neighborhoods in the Bronx, Brooklyn and Queens."
He also said that the total COVID hospitalizations continue to decline. Total hospitalizations fell to 5,570, from 5,818 the day before. The number of new COVID hospitalizations fell to 295, from 335 the day before. However, "tragically, we lost 112 New Yorkers to the virus yesterday."
Starting May 21, religious gatherings of no more than 10 people will be allowed statewide. Social distancing and masks are required. Drive-in and parking lot services are now also permitted. 
Finally, there has been an increase in domestic violence during the COVID pandemic, A task force is looking into ways to help and will make recommendations by Thursday, May 28.
On May 21, 2020, Governor Cuomo said that New York's Contact Tracing Program is "the most ambitious in the country." He announced that summer school will be conducted through distance learning. He also said that New York is investigating 157 reported cases in New York of children who are experiencing "a series inflammatory illness (known as MIS-C). Hospitalizations continue to fall.
On May 22, 2020, Governor Cuomo urged New Yorkers to enjoy the long weekend "responsibly and safely." He reminded people that they must wear masks if they can't practice social distancing. He said that the State is launching a $100+ million loan program for small businesses.  Click here to learn more. He said that the Mid-Hudson Valley and Long Island regions could be ready to begin Phase 1 reopening next week. Finally, he said that CVS Pharmacies will open 36 drive-thru testing sites throughout New York.
On May 26, 2020, Governor Cuomo announced that the New York Stock Exchange reopened their trading floor. He also said that the total COVID hospitalizations continue to decline, falling to 4,265.
Photo by M. Marvin