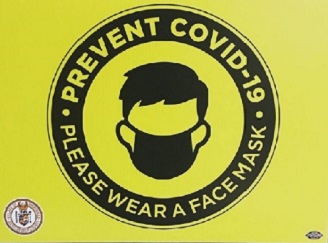 By Staff
May 17, 2020: Below is a summary of an audio message sent by Bronxville Chief of Police, Christopher Satriale, and Mayor Mary Marvin on Friday, May 15, 2020, at 2:15 PM.
Mayor Mary Marvin says that the Village cannot have a Memorial Day Parade this year due to restrictions on gatherings and required social distancing. She says that the Village was prepared to honor Vicki and Si Ford, who are moving back home to Minnesota after living in Bronxville for many years. They would have been the Grand Marshal's of Bronxville's 100th Parade. The Ford's have agreed to return next Memorial Day to be properly honored.
The Mayor says that even though there will not be a parade this year, the Village is designing a tribute "to all our veterans" on the front lawn of Village Hall on Memorial Day.
Bronxville Chief of Police Satriale says that the Village's reopening committee will meet virtually on Monday to discuss how the Village can assist local merchants. He reminds listeners that Westchester is not yet in Phase 1 opening because it has only met 5 of 7 required metrics. As a result, all shops, including barbershops, hair salons, and nail salons, are prohibited from opening.
The Chief says that Michael Fosina, President of NYP-Lawrence Hospital, reports that COVID-19 cases are declining and that the hospital is a safe place to come if you have an illness. The Chief says that if someone needs an antibody test, they should contact their doctor.
Mayor Marvin says that the Bronxville High School Athletic Council is offering a way for the Bronxville Community to show support for Destination College and the Westchester Food Bank during this pandemic. The Council is selling a Bronxville Strong T-shirt and Hat. Click here to make your purchases. The shop will be open until Mary 26.
The Mayor ended with this quote from Mahatma Gandhi: "The best way to find yourself is to lose yourself in the service of others."
Click here to listen to the full audio message.


Photo courtesy Bronxville Police Department