By Staff
May 20, 2020: Below is the local COVID-19 report for this past week.
NY Reopening Update 
On Monday, May 11, New York State launched a "Regional Monitoring Dashboard," which shows where each region stands in meeting the reopening metrics.  As of May 19, 2020, the Mid-Hudson region, which includes Westchester, had met 5 of the 7 requirements.
According to the NY Forward Reopening Guide, when a region meets the criteria, the region can reopen businesses in phases, "with at least two weeks in between each phase" so that state and local leaders can monitor the effects of the reopening.
When they reopen, each business and industry "must have a plan to protect employees and consumers, make the physical work space safer and implement processes that lower risk of infection in the business." 
Below are the businesses that can open in each phase.
Phase 1 Businesses: construction, manufacturing, wholesale, trade, select retail for curbside pickup only, agriculture, forestry, and fishing.
Phase 2 Businesses: professional services, finance and insurance, retail, administrative support, real estate, rental, and leasing.
Phase 3 Businesses: restaurants and food services
Phase 4 Businesses: arts, entertainment, and recreation, education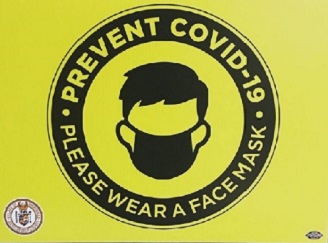 New York State COVID Statistics
According to the New York State Department of Health, as of May 19, 2020, at 4:15 PM, there are a total of 352,845 positive cases in New York State. This includes 32,402 in Westchester County.  A total of 1,424 people in Westchester County have passed away from COVID-19.
Click here for a full breakdown by county.
Other Local COVID-19 News This Week
On May 13, 2020, Governor Cuomo said that a total of 46 counties can resume elective outpatient surgeries. Click here to see the 47 counties.  He also said that, based on testing data, the State estimates that 12.3 percent of the statewide population has antibodies.
He also said that the State is investigating 102 reported cases in New York where "children, of a range of ages, are experiencing a serious illness that is possibly due to COVID-19." More details, including the symptoms to watch out for, are here.
On May 14, 2020, Governor Cuomo reminded New Yorkers that the pandemic is not over and that the State is still seeing over 2,000 cases on a daily basis. He also said that there are five regions in New York State that have met the 7 criteria to begin the reopening process on May 15th.  The regions are North County, Finger Lakes, Southern Tier, Mohawk Valley and Central New York. 
He said that the State is now investigating 110 reported cases of a potentially COVID-related inflammatory illness in children.  
Finally, he said that "to date, the state has tested 1,298,757 people — a little under 7% of the statewide population." You can follow daily testing data on the COVID Tracker website.
On May 15, 2020, Mayor Mary Marvin said that the Village will hold a tribute of veterans on the front lawn of Village Hall on Memorial Day. Chief of Police Satriale said that the Village's reopening committee will meet vitually on Monday, May 18, to discuss how the village can assist local merchants when reopening commences.  Click here to listen to the full audio message.
On May 17, 2020, Governor Cuomo reported that New York State is now able to conduct 40,000 tests per day.  Testing is available to:
-Any individual who has COVID-19 symptoms
-Any individual who has had contact with a person known to be positive with COVID-19
-Any individual who is subject to a precautionary or mandatory quarantine
-Any individual who is employed as a health care worker, nursing home worker or first responder
-Any essential worker who directly interacts with the public while working
-Any individual who would return to the workplace in Phase 1 of the state's reopening plan
Your must always schedule an appointment to get a COVID-19 diagnostic test by calling 1-888-364-3065 or your healthcare provider.   
CLICK HERE to find a test site near you.
On May 18, 2020, Governor Cuomo reported that Western New York is also starting Phase 1 of reopening, along with five other regions.  Cuomo also encouraged major sports teams to plan to reopen without fans.  He also said that New York is bringing in international experts to help advise on New York's reopening plan. Dr. Michael T. Osterhold, Direct of the Center for Infectious Disease Research and Policy at the University of Minnesota, and Dr. Samir Bhatt, Senior Lecturer at Imperial College London, will work with the state to provide technical advice and analyze data/metrics throughout our reopening process and help track progress.
On May 19, 2020, Governor Cuomo announced that another region of New York (the Capitol Region) will begin Phase 1 of its phased reopening. He also said that the the number of total COVID hospitalizations continue to drop. He also said that elective surgeries arenow permitted in 50 counties. Finally, the Belmont Stake will take place on June 20, without fans. 
Photo at top by A. Warner; Photo in middle courtesy Bronxville police department
.