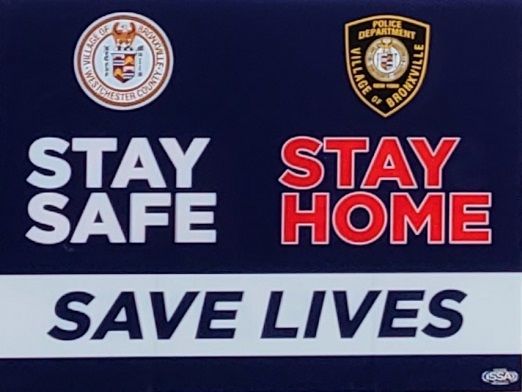 By Staff
May 11, 2020: Below is a summary of the bi-weekly voice message sent by Bronxville Chief of Police, Christopher Satriale, and Mayor Mary Marvin on May 11, 2020, at 2:33 pm.
In this message, Mayor Marvin reminds villagers that gas-powered leaf blowers are banned in the village at this time. She also says that the village is still collecting phone cords and plugs for COVID-19 patients and that there is a box next to the front door of Village Hall to donate. Finally, she says that the Bronxville School PTA is selling a "Bronxville Together" canvas bag for Memorial Day Weekend that will have Bronxville logo merchandise, patriotic items and includes a $25 gift card redeemable at any local business. There will be more details on this soon.
The Chief reminds people that there is still a curfew of 8 pm for those 18 and under in the village. He also says that the village and the school are developing a plan to honor the graduating seniors from Bronxville High School. He also says that the village has formed a reopening committee to plan for "the necessary accommodations for when we are permitted to reopen the village in a phased reopening." The Chief says there is a new sign campaign urging people to use "a face mask or face covering when out.
Mary Marvin ends with this quote from the poet Robert Frost.
"There never was any heart truly great and generous, that was not also tender and compassionate."
Click here to hear the full message.
Photo courtesy Bronxville Police Department
Click here to hear the full message.
Photo courtesy Bronxville Police Department