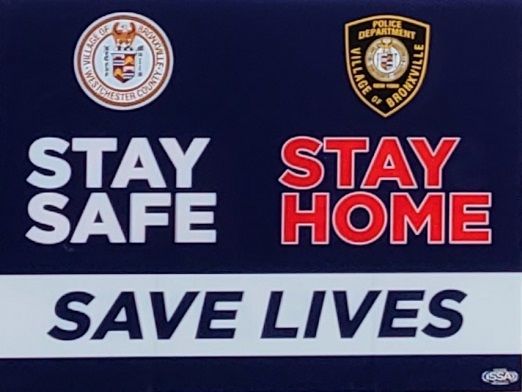 By Staff
May 9, 2020: Below is a summary of an audio message sent by Bronxville Chief of Police, Christopher Satriale, and Mayor Mary Marvin on Friday, May 8, 2020, at 5:12 PM.
In this message, Mayor Marvin says that there is no local control over "reopening" the Bronxville business district and that the village has to take its instructions from the US State Department of Health and the Governor's office in Albany.
She also reports that 1,000 face masks were given out in front of Village Hall on May 7. 
The Chief of Police reports that Michael Fosina, President of NYP-Lawrence, says that he is seeing the numbers decline for COVID-19 cases. However, Fosina stressed that this is far from over, and we need to continue to be cautious.
The Chief says there is a disturbing report that children have been impacted with serious illness as a result of COVID-19. He says that it is a small number of cases, and there have not been cases in Bronxville. However, it is a good time to stress that children should wear masks when out and wash their hands frequently.
The Mayor asks people to please answer the census. She says that Bronxville is at a 64% response rate, which is low. She says that "for every person we miss in the village, we stand to lose $2,500 per year until the next census." She also asks people to support the local merchants.
The Chief wishes mothers and grandmothers Happy Mother's Day.
Mayor Marvin ends with a quote from Desmond Tutu, the South African cleric, who received the Nobel Prize for Peace for his role in opposition to apartheid in South Africa.
"God's dream is that you and I and all of us will realize that we are family, that we are made for togetherness, for goodness, and for compassion."
Click here to hear the full message.
Photo courtesy Bronxville Police Department