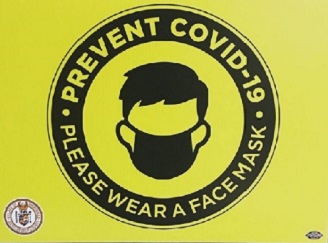 By Staff
May 13, 2020: On Monday, May 11, Governor Cuomo announced that the State will take a "regional approach" to reopening and will rely on seven core metrics to determine if the region is ready.  
The metrics require that "the infection, death, and hospital rates meet specific standards, that the hospital capacity is there if needed, and that testing and tracing are in place." See the full criteria here.
The State also launched a "Regional Monitoring Dashboard," which shows where each region stands in meeting the reopening criteria.  
Westchester falls in the Mid-Hudson region and, as of May 12, 2020, had met 5 out of 7 metrics for reopening. Click here to see the Regional Monitoring Dashboard.
According to the NY Forward Reopening Guide, when a region meets the criteria, the region will reopen businesses in phases, "with at least two weeks in between each phase" so that state and local leaders can monitor the effects of the reopening.
Also, as businesses reopen, they will not be returning to business as usual. "Each business and industry must have a plan to protect employees and consumers, make the physical work space safer and implement processes that lower risk of infection in the business."
The NY Forward Guide also says that schools will need to develop a reopening plan "to be submitted to the state for approval, that addresses how they plan to reopen their schools – and reopen them safely."

Phase 1 Businesses: construction, manufacturing, wholesale, trade, select retail for curbside pickup only, agriculture, forestry, and fishing.
Phase 2 Businesses: professional services, finance and insurance, retail, administrative support, real estate, rental, and leasing.
Phase 3 Businesses:  restaurants and food services
Phase 4 Businesses: arts, entertainment, and recreation, education
New York State COVID Statistics
Bronxville Police Officers Cheryl Jarosz and Jason Cooper helping to spread the message to wear a face covering


According to the New York State Department of Health, as of May 12, 2020, at 4:28 PM, there are a total of 338,485 positive cases in New York State. 
This includes 31,472 in Westchester County. A total of 113,647 people in Westchester have been tested. Sadly, a total of 1,360 people in Westchester have lost their lives to COVID-19.
Click here for a full breakdown by county.
Other Local COVID-19 News This Week
On May 5, 2020, Governor Cuomo said that survey results from 113 hospitals reveal that "66% of newly hospitalized patients were at home before they were admitted, compared to 18% who had been in nursing homes, 4% in assisted living and less than one percent from jails or prisons. Only 4% of respondents reported having used public transportation."
On May 7, 2020, Governor Cuomo reported that "the infection rate among health care workers is about the same, or even lower, than the infection rate of the general population." He explained that this was "good news because it suggests that when the protocols that medical workers know to take — including proper handwashing, wearing masks and gloves — are followed, the virus can be held at bay.
The Governor extended the State's moratorium on COVID-related residential and commercial evictions to August 20, 2020, and banned fees for late or missed payments during the eviction moratorium.
The State is also making sure food doesn't go to waste and is purchasing goods and products from upstate farms to support food banks, soup kitchens, and food pantries.
Cuomo also reported that the number of COVID hospitalizations fell again.
Finally, he reported that Pfizer had begun human clinical trials for a Coronavirus vaccine. The trials are taking place at the NYU Grossman School of Medicine and the University of Maryland School of Medicine.
On May 8, 2020, Mayor Mary Marvin and Chief Satriale sent out their bi-weekly audio message. Mayor Marvin said that there is no local control over "reopening" the Bronxville business district and that the village has to take its instructions from the State Department of Health and the Governor's office. She also reported that 1,000 masks were given out in front of Village Hall on May 7. 
Chief of Police Satriale said that, according to Michael Fosina, President of NYP-Lawrence, the hospital is seeing a decline in the number of COVID-19 cases. The Chief said there are a small number of cases in the State of children getting ill and that all should wear masks.  
Click here to hear the full message.
On May 9, 2020, Governor Cuomo said that "low-income communities and communities of color have been disproportionately impacted by COVID-19 in the New York City metropolitan area, as they have been in many states and cities." To address these racial disparities, NYS is establishing 24 new temporary testing sites at houses of worship in these communities.
He also said there are 73 reported cases of a new inflammatory syndrome in children that are believed to be related to COVID-19. He said that the illness had taken the lives of "a 5-year-old in New York City, a 7-year-old in Westchester County and a teenager in Suffolk County,"
He also reported that the number of total COVID hospitalizations continues to decline and is currently at 7,776.
On May 10, 2020, Governor Cuomo announced that he would issue an Executive Order mandating that all nursing home staff be tested for COVID-19 two times per week. 
He also said that New York State is investigating 85 cases of a COVID-related illness in children. "If your child is experiencing symptoms such as prolonged fever, severe abdominal pain, change in skin color, racing heart and chest pain, make sure you call your doctor." 
Finally, he said that the State Department of Health "is actively pursuing a new drug therapy in coordination with the Department of Health and Human Services (HHS). HHS is distributing an antiviral medication called Remdesivir that may help patients infected with COVID-19 recover more quickly. New York will use the medication to treat 2,900 people at 15 hospitals." 
On May 11, 2020, Governor Cuomo released the NY Forward Reopening Plan. Click here to read the plan. As part of this, he said that New York will reopen "certain low-risk business and recreational activities statewide on May 15. These include "landscaping and gardening, low-risk outdoor recreational activities (like tennis) and drive-in movie theaters."
On May 11, 2020, Mayor Mary Marvin and Chief of Police, Christopher Satriale, sent out their bi-weekly audio message. In the message, Mayor Marvin said that the village is still collecting phone cords and plugs for COVID-19 patients and that there is a box next to the front door of Village Hall to donate. She also said that the Bronxville School PTA is selling a "Bronxville Together" canvas bag for Memorial Day Weekend that will have Bronxville logo merchandise, patriotic items and includes a $25 gift card redeemable at any local business. There will be more details on this soon.  
The Chief reminded people that there is still a curfew of 8 pm for those 18 and under in the village. He also says that the village and the school are developing a plan to honor the graduating seniors from Bronxville High School. He also said that the village has formed a reopening committee to plan for "the necessary accommodations for when we are permitted to reopen the village in a phased reopening." Click here to hear the full message.
On May 12, 2020, Governor Cuomo said that hospitals in New York State will "prioritize COVID-19 testing for children displaying symptoms of multi-system inflammatory syndrome."
Photos courtesy Bronxville police department.