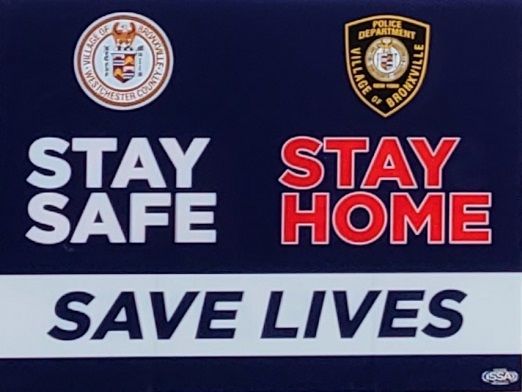 By Staff
May 11, 2020: The Centers for Disease Control provides information on all the clinical trials of treatments underway for COVID-19.  Here is a link to  the "active" trials. 
Below are the latest COVID-19 statistics in New York State and local COVID-19 news this week.  
New York State COVID Statistics
According to the New York State Department of Health, as of May 11, 2020, at 3:44 PM, there are a total of 337,055 positive cases in New York State. 
This includes 31,384 in Westchester County. A total of 112,663 people in Westchester have been tested. Sadly, a total of 1,349 people in Westchester have lost their lives to COVID-19.
Click here for a full breakdown by county.
Other Local COVID-19 News This Week
On April 27, 2020, the New York State Board of Elections announced that The Democratic Presidential Primary rescheduled for June 23, 2020 has been cancelled.
On April 28, 2020, Governor Cuomo outlined "factual, data-driven principles to guide us on reopening New York safely on a regional basis. Each region of the state — Capital Region, Central New York, Finger Lakes, Mid-Hudson Valley, Mohawk Valley, New York City, North Country, Long Island, Southern Tier, and Western New York — must follow twelve guidelines as part of the reopening plan. Read the full guidelines here. 
On April 29, 2020, Governor Cuomo announced that "elective outpatient treatment and surgeries can resume in 35 NY counties." He also said the New York is working to double its testing capacity from 20,000 to 40,000 per day.
On April 30, 2020, Governor Cuomo announced that they are going to increase the tracing program to 6,400 to17,000 tracers statewide.
On May 1, 2020, Governor Cuomo announced that hospitalizations are declining but are still about 1,000 new people per day. He also announced that all K-12 schools and colleges statewide will remain closed for the rest of the academic year. Schools will continue to provide distance learning. He also said that schools and colleges "must create reopening plans that re-imagine how schools can monitor the spread of Coronavirus, how to reinforce student safety, when and how to resume extracurricular activities and other considerations." 
Also, on May 1, 2020, Bronxville Police Chief Satriale asked residents to wear a mask while jogging or walking through the village because it is difficult to practice social distancing. Mayor Marvin also addressed other local issues in this weekly audio message. Click here to hear the full message.
On May 3, 2020, Governor Cuomo said that he and the governors of Connecticut, New Jersey, Pennsylvania, Delaware, Rhode Island, and Massachusetts announced "a multi-state agreement to develop a regional supply chain for personal protective equipment, other medical equipment, and testing." He also said that the Department of Health will require each hospital to have a 90-day supply of PPE on hand.
Additionally, Cuomo said that the number of hospitalizations continues to fall, "however infections remain high, and the virus is still spreading."
On May 4, 2020, Bronxville Police Chief Satriale and Mayor Mary Marvin sent out their bi-weekly voice message. Mayor Marvin reported that she and Bronxville Police Officer Cavallo gave out 750 cloth masks in the village on Saturday. The village is distributing more on Thursday, May 7, at Village Hall. Click here for information. The Chief said that the Bronxville police staff acted early in using protective measures during the crisis and that the police staff is doing well. Mayor Marvin asked everyone to support local merchants for Mother's Day. She also thanked teachers during this week's Teacher Appreciation Week. Click here to hear the full message.
On May 5, 2020, Governor Cuomo announced that New York State is collaborating with the Bill & Melinda Gates Foundation "to develop a blueprint to reimagine education in the new normal."  He also reported that the number of new COVID hospitalizations continues to decline.
Photo courtesy Bronxville police department.