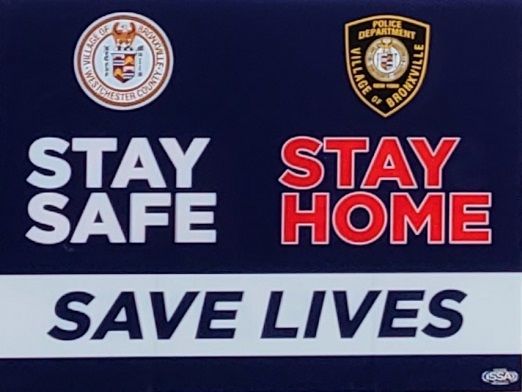 By Staff
Apr. 27, 2020: Below is a summary of the bi-weekly voice message sent by Bronxville Chief of Police, Christopher Satriale, and Mayor Mary Marvin on April 27, 2020, at 3:44 PM.
Chief Satriale said, "We continue to receive good news from the state and our local hospitals as it relates to positive cases...." He said that the Governor had announced a plan to begin talking about Phase 1 reopening of some businesses. Chief Satriale said that he wasn't sure what was going to happen but he did know that businesses will have to submit a plan that will have to be approved.
Mayor Marvin said that The Counseling Center in Bronxville would be happy to be of help to anyone who is struggling at this time.
The Chief said, "It's not time to let up yet. We still want our vulnerable members of our population to stay home" and social distance when out. Also, please continue to wear masks. He also emphasized that all employees within businesses must wear masks at all times.
Mayor Marvin said that Bronxville resident, May Thomas, has started a program asking for donations of phone chargers, cell phones, tablets, old and new because this equipment for our COVID patients is very important.  
Chief Satriale said that he and the Mayor are going to try to take questions in advance of the Friday call to answer on the call.
They will send out a text message in the coming days with email addresses for The Counseling Center, May Thomas, and where to send questions.
Mayor Marvin said, "Our merchants truly need your help more than ever."
She also ended with the following quote from Henry James: "Three things in human life are important. The first is to be kind. The second is the kind. And the third is the be kind."
Photo courtesy Bronxville Police Department