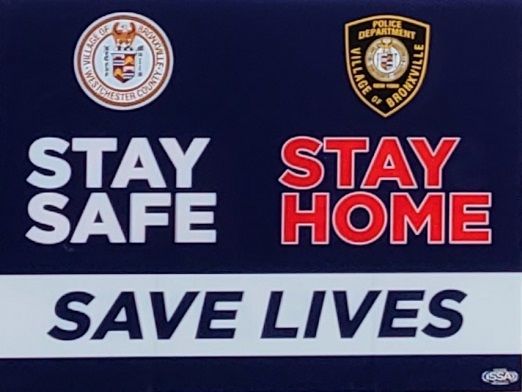 By Staff
Apr. 24, 2020: Below is a link to an audio message sent by Bronxville Chief of Police, Christopher Satriale, and Mayor Mary Marvin on April 24, 2020, at 5:15 PM.
In this message, Chief Satriale says that the mitigation efforts that everyone is doing seem to be successful and that "Bronxville is in the bottom 3 of 45 municipalities in Westchester for positive cases."
Mayor Mary Marvin says that she spoke with Michael Fosina, the President of NewYork-Presbyterian Lawrence Hospital, who said that the hospital has decreasing visits of COVID-19 patients to the ER and the hospital, and increases in healthy discharged patients.
Chief Satriale clarifies Governor Cuomo's executive order requiring masks. He says that the order states, "masks will be required on public transit, busy streets, and in grocery stores among other locations where social distancing is limited." He then says that there is an uptick of activity in the village and that all of our streets in the village qualify as busy streets. He asks everyone to please wear a mask.
Mayor Marvin says the hospital wants to thank the community for their generosity, including cards and letters. She also says that parents from the Bronxville School have started a go-fund-me page to provide lunches for the 225 Hospital employees. Here is a link to the Go-Fund-Me page.
Mayor Marvin says that Mother's Day coming and that stores are ready to take phone and email orders.
Chief Satriale says that the police department is also grateful for the food and desserts.
Mayor Marvin closes with a quote from the Dalai Lama, "...be kind whenever possible as it is always possible."
CLICK HERE to hear the full message:
Photo courtesy Bronxville Police Department