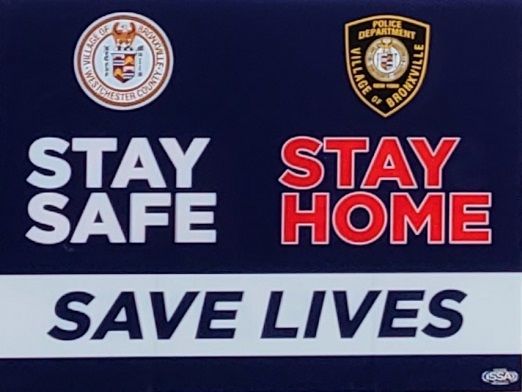 By Staff
May 4, 2020: Below are the latest COVID-19 statistics in New York State and local COVID-19 news this week.  
New York State COVID Statistics
According to the New York State Department of Health, as of May 4, 2020, at 1:28 PM, there are a total of 318.953 positive cases in New York State. 
This includes 30,097 in Westchester County. A total of 100,272 people in Westchester have been tested. Sadly, a total of 1,220 people in Westchester have lost their lives to COVID-19.
Click here for a full breakdown by county.
Other Local COVID-19 News This Week
On April 22, 2020, Governor Cuomo announced a new COVID-19 contact tracing program to control the rate of infection of the virus. He said, "It will be executed in coordination with New Jersey and Connecticut. Bloomberg Philanthropies is committing $10.5 million, along with organizational support and technical assistance, to help build and execute this new program, and the Johns Hopkins Bloomberg School of Public Health will build an online curriculum and training program for contact tracers. This program will be crucial as we start our work to safely reopen our economy."
On April 23, 2020, Governor Cuomo announced that "the preliminary results from the State's antibody study are in. The survey developed a baseline infection rate by testing 3,000 people at grocery stores and other box stores over two days in 19 counties and 40 localities across the State. The preliminary results show 13.9% were positive for COVID-19 antibodies."
On April 24, 2020, Bronxville Chief of Police, Christopher Satriale, and Mayor Mary Marvin sent out their bi-weekly message. The message says that mitigation efforts seem to be successful and that "Bronxville is in the bottom 3 of 45 municipalities in Westchester for positive cases." Visits to the ER and hospital are decreasing, and healthy discharges are increasing. Masks are required in the village of Bronxville because it has "busy streets." There is a Go-Fund-Me page to provide lunches for hospital employees. CLICK HERE to hear the full message.
On April 25, 2020, Governor Cuomo announced that he will issue an Executive Order allowing all pharmacies to test for COVID-19. "This will unlock a network of over 5,000 independent pharmacies as diagnostic testing locations and help the State build a collection network to meet laboratory capacity and increase overall testing capacity. Many large pharmacy chains are already performing testing, and this order expands it to all pharmacies."
On April 26, 2020, Governor Cuomo announced a "phased plan to safely reopen New York at the appropriate time, taking a regional approach." He further explained, "Phase one will be to reopen low-risk construction and manufacturing businesses in parts of the State that have experienced a 14-day decline in the hospitalization rate. Phase two will open certain industries based on priority and risk level. (Businesses considered "more essential" with inherent low risks of infection in the workplace and to the customer will be prioritized.) Officials are closely monitoring the hospitalization rate, the infection rate, and other key health indicators, and will make adjustments to the plan based on this crucial data.
He also said that there "will be a two week waiting period in-between phases of this plan to monitor the effect" and "Businesses and industries will create plans that include new measures to protect employees and consumers."
Finally, he said, "We will work with neighboring states to ensure safe and consistent policies. In downstate New York, special attention will be taken to ensure the safety of low-income communities."
On April 27, 2020, Governor Cuomo announced that the results of Phase two of the State's antibody testing survey show that 14.9 percent of the population is positive for COVID-19, "but there are large variations depending on the region within the state." He also said that the State is expanding its antibody testing to determine the rate of infection among "frontline workers and first responders."
He also reported that New York State will work with farmers and companies in the State to distribute excess product to food banks and those in need. The State is also providing $25 million to food banks and "providers most impacted by COVID-19."
On April 28, 2020, Governor Cuomo announced the creation of the New York Forward Re-Opening Advisory Board to help guide the state's re-opening strategy.  He also outlined additional guidelines for the phased plan to re-open New York on a regional basis. Click here to read more about these guidelines.
Photo at top courtesy Bronxville police department; photo in middle courtesy Mayor Mary Marvin