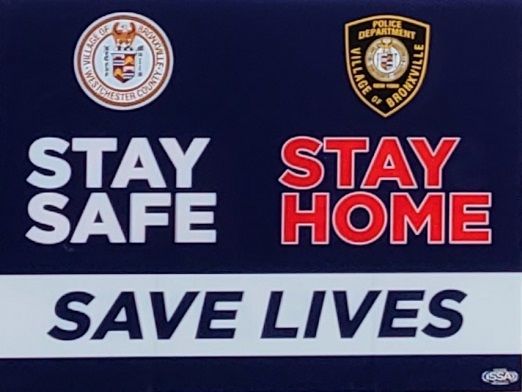 By Staff
Apr. 17, 2020: Below is a link to an audio message sent by Bronxville Chief of Police, Christopher Satriale, and Mayor Mary Marvin on April 17, 2020, at 3:41 PM.
In this message, Chief Satriale says that the Governor signed an executive order requiring face coverings if you cannot maintain social distancing. This starts tonight, April 17, 2020 ,at 8 PM. Chief Satriale further says that "our recommendation today" is that "we want to see you wearing a mask at all times when you're outside" because it's difficult to maintain social distancing in Bronxville. 
Mayor Marvin asks people to call the police if you see incidents where people are not complying. This can be done anonymously.
Chief Satriale emphasizes that "this is not over" and "we need you to social distance" and "stay home." Six feet is good for social distancing, but joggers should maintain 10 to 15 feet.
The Chief and the Mayor emphasize that even though the number of Bronxville's COVID-19 infections seems relatively low, we live close to nearly 5,000 people in bordering cities who have the virus.
Mayor Marvin signed two emergency orders today. One continues the "state of emergency" and the second is a temporary ban on all kinds of leaf borders. The latter is not related to COVID-19. Its purpose is to reduce noise and dust while people are at home.
Mayor Marvin thanks workers in the village who can't stay home and says that the hospital has decided to do everything it can to buy local.
Mayor Marvin also mentions that "we lost another great villager to this disease - Jim Kenney."  Marvin describes him as "one of the kindest, most warm-hearted men I know. I use to tease him that he was the Mayor of Pondfield Road. We'll miss Jim."
In other local news, the Village Budget needs to be adopted by May 1. Click here to see the budget.  Also, the Village Election will be sometime after June 1.
CLICK HERE to hear the full message:
Photo courtesy Bronxville Police Department