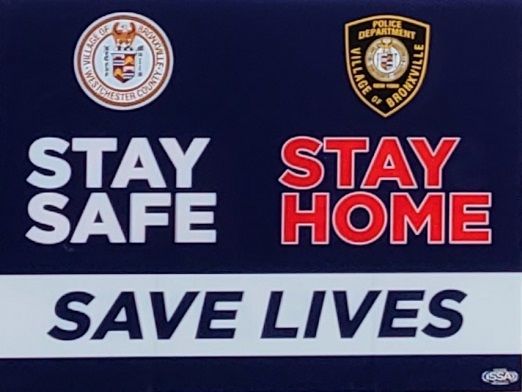 By Staff
Apr. 11, 2020: Below is a link to an audio message sent by Bronxville Chief of Police, Christopher Satriale, and Mayor Mary Marvin on April 10, 2020, at 7:02 PM.
In this message, Mayor Marvin starts with a quote from Ralph Waldo Emerson, "You cannot do a kindness too soon, for you never know how soon it will be too late." 
Major Marvin says that the best news is that, after three weeks in the ICU in Manhattan, our young 18-year-old resident is now safely home in Bronxville. "Welcome home Brian!"
She expresses thanks to the Department of Public Works, which has not shortened its schedule, and says that they are heroes along with the police department, EVAC, fire department, and hospital staff.
Marvin requests that residents throw away masks and gloves when finished with them, rather than leaving them on the ground. 
She also thanks villagers for their enormous generosity to local merchants and says that "staying apart in so many ways has brought us together as Bronxville."
Chief Satriale says that it appears that "our mitigation efforts" are helping "flatten the curve" and that the number of new cases of COVID-19 has seemed to level off but he also says that "this is no time to let up."
Satriale says that the State of Emergency in Bronxville is still in effect and that everyone must continue to follow stay-at-home guidelines and social distancing when making essential trips. He also reminds residents to wear a face-covering when out and to walk in single file on sidewalks and elsewhere to maintain social distancing.
The Chief reminds villagers that all parks and playgrounds remain closed, including the Scout Field baseball field.  
Finally, he quotes Dr. Anthony Fauci "it is not time to take your foot off the accelerator but just to push it down."
Satriale ends by saying, "Thank you for your continued cooperation" and "Happy Passover and Happy Easter."
CLICK HERE to hear the full message:
Photo courtesy Bronxville Police Department