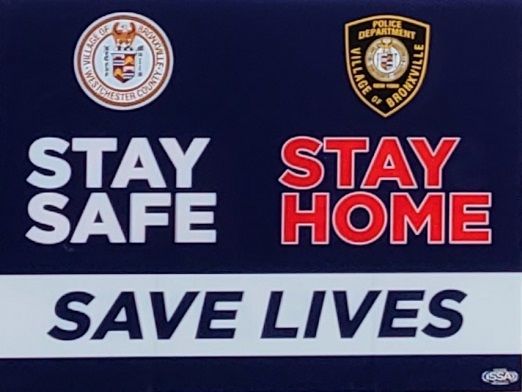 By Staff
Apr. 21, 2020:  On April 14, Governor Cuomo said that there is evidence that the "stay at home" directive has helped control the spread of Coronavirus COVID-19 in New York State this week.
New York State COVID Statistics
According to the New York State Department of Health, as of April 21, 2020, at 1:05 PM, there are a total of 251,690 positive cases in New York State. 
This includes 24,656 in Westchester County.  A total of 74,548 people in Westchester have been tested. Sadly, a total of 904 people in Westchester have lost their lives to COVID-19.
Click here for a full breakdown by county.
Other Local COVID-19 News This Week
On April 8, 2020, Governor Cuomo announced that he will issue "an Executive Order to ensure New Yorkers can vote by absentee ballot in the June 23rd elections. No one should have to choose between their health and their civic duty." 
On April 10, 2020, New York State announced a New York Tough ad campaign. Click here to view the video ad.
On April 10, 2020, Bronxville Chief of Police, Christopher Satriale, and Mayor Marvin sent out their bi-weekly message.  Marvin said that the best news was that the 18-year old resident, who had been in the ICU in Manhattan for three weeks, was now safe at home in Bronxville. She also thanked villagers for their generosity to local merchants. Chief Satriale said that mitigation efforts seemed to be helping to "flatten the curve" but that it was "not time to let up." Click here for more information. 
On April 12, 2020, Governor Cuomo announced that "he will issue an Executive Order directing employers to provide essential workers with cloth or surgical masks free of charge to wear when directly interacting with the public."
On April 13, 2020, Bronxville Mayor Mary Marvin and Chief of Police, Christopher Satriale, sent an email message acknowledging that last week was a "difficult week for all New Yorkers."  The announcement included the sad news that Bronxville resident Walter James "Jim" Kenney had died from COVID-19. Chief Satriale said that the "infection rate continues to level off in New York" but that "this is no time to let up." Finally, Marvin said that local food banks are in desperate need of food. Click here to read more.
On April 14, 2020, Governor Cuomo announced that New York, New Jersey, Connecticut, Pennsylvania, Delaware, Rhode Island and Massachusetts are joining together "to create a multi-state council to get people back to work and restore the economy."  The announcement said the following:  "The coordinating group — each state's governor will be represented by one health expert, one economic development expert and their respective Chief of Staff — will work together to develop a fully integrated regional framework to gradually lift the states' stay at home orders while minimizing the risk of increased spread of the virus. Any plan to reopen society MUST be driven by data and experts, not opinion and politics."
Photo at top courtesy Bronxville police department.