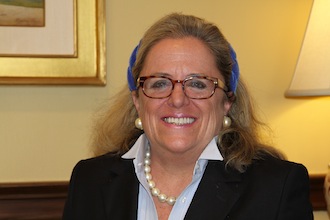 Jan. 22, 2014:  As the trustees and I formulate a capital budget for the next fiscal year, it never ceases to amaze me how wide the cost differential is between specialized commercial-grade equipment and what we purchase for personal use.
Police Department Costs
As example, a basic car for use by the police department costs a "normal" $27,000. However, to make it a functioning patrol car, $13,000 worth of equipment must be added, including emergency lights, striping, sirens, and license plate readers. The one bright light bar on the top of a police car costs $4,000 alone.
The officer who will then drive the car is wearing $3,800 in required gear and clothing. His or her handgun costs $500, with an aggregate cost of $20,000 to outfit the entire department. A Kevlar vest costs $900, and, contrary to popular belief, it is not indestructible. Effectiveness is lost after approximately five years due to the breakdown in fiber caused by changes in heat and cold, perspiration, and repeated bending to wear.
Though a seeming look-alike, a police radio is very different from a conventional walkie-talkie. Costing $900 each, police radios have 16 frequencies connecting to different emergency departments, and similar to a Kevlar vest, only have a five-year-plus life.
The recently purchased Tasers, at $1,200 each, give our department a weapon on the gradient from physically restraining and handcuffing to the use of a firearm.
The above numbers do not reflect the high maintenance costs to keep the equipment operable as well as the training associated to ensure that our officers are proficient in using the specialized equipment.
After the officer and the police car are properly outfitted, we must then account for the cost of operating the vehicles. On average, an officer will drive 35 miles around the village during an eight-hour tour. Factoring in three tours every 24 hours times two cars patrolling on each tour, our officers drive an aggregate of 210 miles per day, thus adding gas and maintenance as significant costs.
Even an officer's trousers and shoes must be more heavy duty than the norm, and shirts and jackets require specialized insignia and patches.
Since everything has a finite life, we are almost yearly purchasing something in each category. We look for the most cost-advantageous pricing, and our sources vary. Some years it is more economical to purchase items through a state bid program, while at other times, goods are cheaper on the open market through a competitive bidding process.
Public Works Department Costs

Similar to the police department, our public works department requires the constant purchasing of specialized equipment with purchase prices even higher than patrol needs.
As example, a new garbage truck costs $180,000 and has a life cycle of 12 to 15 years. Since we do not have a modernized maintenance facility, all of our trucks are stored outside, further decreasing their useful life. The newest trucks are used for garbage pickup, as this is the most intensive use, and as they age, they are put to secondary use for recycling or yard waste pickup.
Since we are such a small village, we do not have a fleet of trucks, so every piece of equipment must be configured for multiple uses. The multipurpose function saves in the long run, but costs at the outset are higher.
The same is true for the salt trucks. At a cost of $145,000, they must also serve as sanders and leaf pickup vehicles with the capacity to tow a vacuum.
Using a snowstorm as illustration, before a salt truck hits the road, the salt must be purchased and stored at the cost of $52 per ton, with an approximate usage of 800 tons per season; a $125,000 loader must fill the truck, and all vehicles must be staffed. If the storm occurs beyond normal working hours, our labor costs increase to time-and-a-half to double time depending on the circumstances. In addition, the EPA now requires an expensive gasoline additive to reduce carbon emissions, and if it appears ice is also likely, calcium chloride, a liquid deicer, must first be applied to street surfaces.
Since all the department of public works vehicles contain specialized equipment, including salt and sand calibrators, the maintenance costs are not insignificant.  
We collaborate with our town neighbors in Tuckahoe and Eastchester to joint purchase, but it is only realistic for certain equipment. As illustration, buying one sewer vacuum makes sense, as each community does not need one 24/7, versus when a snowstorm occurs, everyone needs snow equipment at the same time. We do endeavor to purchase materials with our neighbors to benefit from volume discounts.
Street sweepers at $180,000 per and bucket trucks at $140,000 are high cost and high maintenance. Even the seemingly innocuous accoutrements have a decent price tag. I am often asked to add trash cans throughout the village, two here, two there. However, since they have to be of a durable commercial grade, their cost is $700 per receptacle. The replacement of a street tree due to disease or storm damage averages $350 per plant. 
The village's biggest constraint is the lack of indoor storage for vehicles, parts, and inventory, so even the smallest items are purchased on a need basis.
The capital budget process, which is currently under way, is a very thorough and diligent vetting of needs. Each department head meets with the village administrator and village treasurer to prioritize a list of capital requirements with their attendant costs. After the lists are refined, department heads meet with the trustees to defend their decisions and prioritize or triage when necessary as finances dictate. The process takes approximately three months and on average $1.3 million is spent yearly to maintain the equipment and infrastructure needed to run the village.