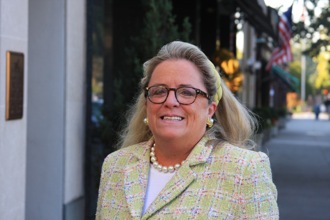 By Mary C. Marvin, Mayor, Village of Bronxville

Apr. 18, 2018:  Over the weekend, I reread my favorite op-ed piece, "The Structure of Gratitude" by David Brooks. Given the current national climate, it resonated more than ever.
Mr. Brooks describes gratitude as a form of "social glue" that produced "the institutions our ancestors gave us ... which shape us to be better than we'd otherwise be." Brooks believes that "appreciation becomes the first political virtue and the need to perfect the gifts of others is the first political task."
I immediately thought of the gift of all the villagers who have come before us and shaped our community into the truly special place it is. I am so grateful for their example.
Many of us moved to the village for the excellent school system, the close proximity to New York City, and the natural beauty, but we stayed because of the friendships made and the community spirit.
Our forbearers set the standard of decency, tolerance, and grace under pressure--a high bar indeed. Citizens have always been well informed and passionate about causes, admiring of a worthy opponent and a well-reasoned argument, and respectful of contrary intelligent views.
There are many beautiful suburbs of New York City and environs to call home. Most of them more favorably stretch your real estate dollars and offer more property, parks, and recreational facilities, and you can even get a parking space!!
Bronxville has the intangibles that are hard to quantify but exert an indefinable draw, a friendly embrace.
In my 30-plus years as a resident, I have found villagers to be the most thoughtful, caring, generous, and compassionate people I have been privileged to meet. When a family experiences a sadness or misfortune, neighbors rally and express their love and concern in the form of casseroles with enough to feed the Fifth Army.
From my other perspective, having been privileged to be involved in village government, I have found our citizens to be intelligent, well informed, and so respectful of civil discourse. I have sought to emulate many of them.
As a shining example, I think of our two-year-long property revaluation effort. This process has served to fracture some communities with lawsuits and residual neighbor-to-neighbor bad feelings. Our community serves as the model for others in our county for how to conduct a process that causes great upheaval with courtesy, civility, and understanding.
At this juncture in our nation, where some are using the adjective "mean" to describe the discourse, we need to hold fast to what we value as a village.
Fissures appear so quickly when a foundation is not preserved. If I have fallen short in my duty to preserve more than buildings and roads, I am truly sorry. In the spirit of gratitude, I have recommitted myself and humbly ask you to think about doing the same to uphold the spirit of community that makes our village home.
Editor's note:  As a public service, MyhometownBronxville publishes press releases, statements, and articles from local institutions, officeholders, candidates, and individuals. MyhometownBronxville does not fact-check statements therein, and any opinions expressed therein do not necessarily reflect the thinking of its staff.