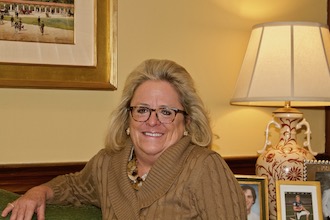 By Mary C. Marvin, Mayor, Village of Bronxville

Jan. 10, 2018:  January signals the enactment of many laws passed by the New York State Legislature in its 2017 session.
Over 500 bills were signed into law with a goodly number having an effect on village residents.
When seeing 500 new laws passed, I think of the quote on less government that I often refer to, reputedly expressed by Mark Twain, that "no man's life, liberty or property is safe while the legislature is in session." California beat us by a country mile with over 900 new laws enacted. Many were very substantive and directed to issues of great impact, including opioid addiction, domestic violence, and cancer screening.
The following is a brief description of some of the more substantive bills enacted.
Health
Insurers are now mandated to cover the cost of the anti-overdose drug naloxone and cover treatment of substance abuse without a preauthorization requirement.

Doctors can now prescribe new and often more costly drugs for serious illnesses without first waiting for the less expensive alternatives to "fail" per most insurance company protocols.

Individuals with emotional/drug-related problems may be committed for 72 hours for medical observation vs 24 hours.

County health departments now must report and make public opiate overdose data as well as the quantity of Narcan purchased and used.

There is now a requirement to post a human trafficking help hotline number at highway rest stops, airports, bus stations, emergency rooms, and adult entertainment establishments. (Currently, over 10 million people are being trafficked worldwide, 1 million of whom are children.)

The age of consent for marriage has been raised from 14 to 17.

Local courts in locations where a victim of domestic violence is registered to vote are authorized to issue an order to keep such information confidential and not subject to public disclosure.

Municipal employees are granted up to four hours of paid leave annually for cancer screening.

Certain restaurants, organizations, and arenas may stock epi-pens and use if administered by trained personnel.

Laboratories now have an affirmative duty to seek homes for animals used in research.

The time has been extended for filing 9/11 illness claims.
Safety
Motor vehicles must now pull over for EMTs and volunteer firefighters who display blue or green flashing light protocol.

Tinted windows restricting more than 30% of light transmitted through a windshield will now fail vehicle inspections.

Courts can now charge individuals involved in alcohol-related boating accidents with repeat offender status if the driver had any prior DUIs or DWIs in any vehicle type.

Given that 25% of inmates in New York prisons are of Hispanic descent and 10% are foreign-born, translators will now be offered at all parole hearings.
Miscellaneous
There is a generous tax credit for hiring veterans.

Uber and Lyft are not granted licenses to operate upstate.

The Board of Regents must now provide notice of its meetings at least seven days in advance.

State agencies must post proposed or revised regulations on their websites.

Homeowners who have graduated from a disaster preparedness course are eligible to receive insurance reduction.
The Unusual
Pets are allowed to be buried with their owners in certain cemeteries. (Seventy-three million American households have pets.)

Daily sports fantasy games have been reinstated, as they were ruled games of skill vs illegal gambling.

Funeral homes will now be eligible to serve beverages and "light fare" food.

Craft beer makers receive a tax benefit for every bottle brewed.
Stay tuned as the 2018 session begins!