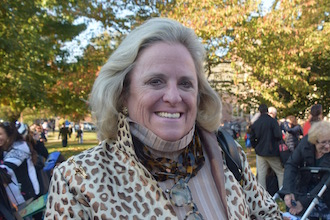 By Mary C. Marvin, Mayor, Village of Bronxville

Nov. 22, 2017:  I recently archived some of the old newspapers in my office and came across a newspaper from 1939 with a lead article titled "What Do We Do About Parking?" I immediately stopped to read for the elusive answer only to learn that the title was entirely rhetorical rather than solution-oriented.
We are currently in the midst of another parking shift/solution as we relocate cars back to the Kensington Road area.
As a recap, two-and-a-half years ago, resident commuters, merchants, and resident-reserved parkers (parking designation for residents from Sagamore Road and Kensington Road who do not have on-site private parking) had to be displaced because of the construction of Villa BXV. When the old Kensington lot came offline, merchants were relocated to the Garden Avenue lot in spaces that were formerly designated for retail customers; commuters were relocated to Kraft Avenue, again impacting public parking options; and residents were relocated to on-street parking as a result of a time-limited state legislative waiver to do so.
With the garage now open, we have been migrating parkers back to their former locations in phases. It is especially important if we are to maintain a vibrant business district that we restore the public spaces "downtown" in the Kraft Avenue and Garden Avenue lots in advance of the holiday season.
The new garage offers direct access to the northbound train platform and is well lit, secured by video surveillance, and supplemented by regular police patrol. We are also in the process of redesigning the Sagamore/Kensington island to allow for smooth entrance and egress.
We believed the garage offered amenities never before available and overestimated the interest in the garage vis-à-vis an open-air space in direct proximity to the train, for which we apologize. We will take this into account for next year's commuter pricing and lottery.
We know the value of southbound commuter access and we continue to lease the Avalon lot as well as actively pursuing some partnerships that could increase our inventory.
Parking in the village is probably the most difficult balancing act the trustees and staff face, with the domino effects sometimes unforeseen.
Each constituent group has valid, but often very divergent, needs, and we are mindful that every group is integral to the rich fabric that defines Bronxville.
The following are vignettes of some of the conundrums we try to resolve on an often-daily basis:
The complaint of a resident commuter who no longer has a spot in the Kraft lot vs the valid impatience of our merchants who want these spots back for customer parking. If they were asked, the commuter would also want to live in a village with a vibrant business district and the merchant would also want and respect the commuter as a taxpayer and potential customer.

The frustration of residents circling the village endlessly in search of a parking space to grab a cup of coffee, stop for a sandwich, or pick up a last-minute clothing item or gift or simply have lunch with a friend.

The complaint of a merchant tired of a fellow merchant or his or her employees feeding the meter all day in the prime spaces fronting the stores and impeding the free flow of customers and traffic vs. the needs of beauty salons, restaurants, and doctors' offices in the same block seeking longer-term parking given the length of their services.

The west side merchants who also need the lengthy meter time for some service businesses but do not want the time interval so attractive that it becomes a less expensive alternative than the Lawrence Hospital parking garage.

Because service businesses are bringing added vitality to our storefronts, combined with the competition our goods merchants face from the Internet, more spaces are needed for exercise studio participants vs. the normal flow of customers into a traditional store in one hour.  
Also given the high cost of health care and pension plans, many merchants must hire more part-time employees and fewer 40-hour staffers, necessitating an added need for more merchant/employee parking.
Everyone should and does advocate for their parking needs. On any given day, a library patron will call, frustrated that they couldn't park to use the facility, and there may be a school parent who has no place to park to volunteer or see a performance; a senior citizen who had to turn back home because parking options were too far from the activity; or a resident who cannot unload groceries or have a relative or babysitter park near their home because someone parked there at seven and left at five.
The increasingly tight parking situation is also an outgrowth of the continued success of our institutions. In the recent past, our nursery schools have added sections, our senior citizens group has grown in size and offerings, our refurbished library has attracted new patrons and increased offerings, and our public school's enrollment, staffing, and footprint have expanded, all without appreciable increases in parking inventory.
The result of our effort to balance all the competing needs results in somewhat patchwork parking rules and regulations whose logic isn't always easily apparent.
Please continue to share your concerns and suggestions as we try to fine-tune our parking map and strategies throughout the village.