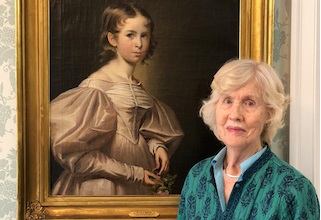 By Staff, The Bronxville Historical Conservancy

Jun. 27, 2018:  Mary Means Huber, who was the Bronxville Village historian from the late 1980s through the 1990s, was honored at a tea on Sunday, June 10, at the Bronxville Public Library. The turnout was standing room only.
Commending Ms. Huber for her longtime service to the history of Bronxville were Marilynn Hill, former chair of The Bronxville Historical Conservancy, and Erin Saluti, the current chair. One of Huber's achievements noted by Hill was the establishment and maintenance of the Bronxville History Room in the basement of the library. 
Ms. Huber co-authored with Marilynn Hill Around Bronxville, a volume in the Images of America series, first published in 1997. The book is a photographic history of Bronxville that takes the reader from pre-Civil War days before the village's incorporation in 1898 into the 20th century.
Pictured here:  Mary Means Huber.

Photo courtesy The Bronxville Historical Conservancy

Editor's note: As a public service, MyhometownBronxville publishes press releases, statements, and articles from local institutions, officeholders, candidates, and individuals. MyhometownBronxville does not fact-check statements therein, and any opinions expressed therein do not necessarily reflect the thinking of its staff.