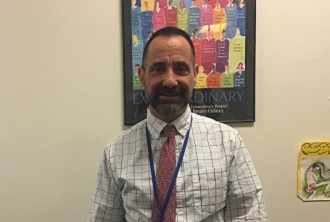 By Ellie Clifford, Bronxville School 8th-Grader

Mar. 20, 2019:   I was doing my homework at the Bronxville Field Club on Tuesday evening, March 12, when I started to smell smoke. I went outside to try to figure out what was happening and saw helicopters in the sky. A staff member then told me that there was a fire in town. My mother, brothers, and I hopped in the car and headed to town. 
As we got out of the car near the hospital, we saw how big this fire was and how much of an impact it made. There were fire engines and hoses everywhere and thick smoke in the air. We had to cover our faces to avoid breathing in the smoke.
Meanwhile, at about the same time, Mr. Agnello, a guidance counselor at the Bronxville School, was having a similar experience. He was in his office at school and smelled smoke. He originally thought it was his radiator but, when he opened his window, he realized it was from outside. He looked out on Pondfield Road and as he told me, "You could hardly see across the street."
Mr. Agnello then decided to go to Gino's for something to eat. There were fire engines all down the street and smoke was billowing out of the top of a building. 
As Mr. Agnello was eating dinner, he noticed a family sitting next to him that was displaced by the fire. The family included a mom, a dad, and two daughters. He later learned that the daughters were age 20 and 12 and that the family had lost all of their possessions in the fire. The possessions were either burned or destroyed by water.
While at Gino's, Mr. Agnello overheard the family talking anxiously about their situation and what they were going to do, including staying in a shelter. He saw that the younger daughter was upset by the idea of the shelter. Mr. Agnello understood because he stayed in a shelter during Hurricane Irene. As he said, "The Red Cross does a great job, but shelters are not a great place for kids."
Then Mr. Agnello did something extraordinary. He decided he wanted to help this family and other families. So he made a phone call to the Hyatt Hotel in Cross County and booked eight rooms. As he said, "I decided if there were any families with kids or senior citizens, I would make the offer to give them a hotel room to stay."
This family was very grateful for the offer and stayed at the hotel from the night of the fire until Sunday morning. Ms. Brogan, a teacher at the Bronxville School, also helped organize a clothing drive for them and delivered the clothes to them yesterday, March 17.
It's really wonderful that Mr. Agnello took the time to do something for a family that he had never met. 
If you would like to help these families, Mr. Agnello mentioned that Ladles of Love in Bronxville and a church in Yonkers are collecting donations from the Red Cross and are helping distribute them.
Pictured here:  Mr. Agnello.
Photo by B. Clifford


Editor's note: The author is the daughter of a staff member of MyhometownBronxville.
Editor's note: As a public service, MyhometownBronxville publishes articles from local institutions, officeholders, and individuals. MyhometownBronxville does not fact-check statements therein, and any opinions expressed therein do not necessarily reflect the thinking of its staff.