Notice
: Trying to get property of non-object in
/home/mhtb/public_html/plugins/system/modulesincontent.php
on line
93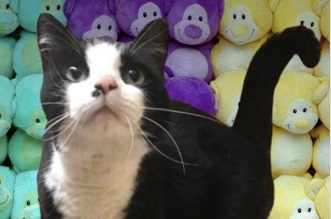 By Allison Roesser
Jun. 24, 2020: Hi! My name is Sophia, and I am a 3-year-old black and white tuxedo kitty with four white paws and really long whiskers. 
Somehow I ended up outside, and my rescuers quickly realized I must have gotten lost. I was taken to safety, but sadly no one came to claim me. Now I am looking for a new family to love.  
Everyone who has met me says I am really affectionate, always happy, and incredibly sweet. I love to roll over and rub up against people to show them how much I care. 
I am the type of kitty that adapts easily to almost any type of situation. I can live with other furry friends or as your one and only. I am good with children and completely litter box trained.  
The people who found me took me to the vet, and I am as healthy as can be. I have also been spayed, and given all of my shots, so I am ready to move into your home as soon as you let me. 
I hope you will give me a chance to show you how wonderful I am. If you have any questions about me that I haven't answered, please email  CLOAKING  or click here to fill out an application to meet me.