Notice
: Trying to get property of non-object in
/home/mhtb/public_html/plugins/system/modulesincontent.php
on line
93
| | | | |
| --- | --- | --- | --- |
| Living History of Bronxville: Marcia Lee Interview of Marilynn Hill in 1997 | | | |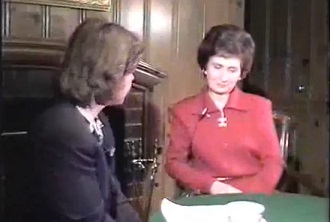 By Staff
May 20, 2020:  From 1991 to 2006, 123 residents of Bronxville were interviewed by Marcia Lee, former Mayor of Bronxville and co-founder of MyhometownBronxville.com, for the cable TV program A Living History of Bronxville.
Each interview ran approximately 45 minutes on air and covered the person's service to the community, his or her professional accomplishments, and his or her family background. 
In the coming month, MyhometownBronxville is going to feature some of the episodes from this series.

This interview is of Marilynn Wood Hill, a historian, author, and community volunteer, primarily in the areas of history and education. 
She serves on the boards of the National Archives Foundation and the National Trust for Historic Preservation and is on the advisory council of the Schlesinger Library at Harvard. 
She was the first chair of the Bronxville Board of Ethics, chair of the Bronxville Adult School, and co-chair of the Bronxville Centennial Celebration in 1998.
A resident of Bronxville for over forty years, Dr. Hill is a co-founder and life co-chair of The Bronxville Historical Conservancy and the editor of The Bronxville Journal. 
Click here to watch this interview
Pictured: Marcia Lee interviewing Marilynn Hill