| | | | |
| --- | --- | --- | --- |
| Enjoy a Virtual Night Out With The Hoch Chamber Music Series Concert on April 25th | | | |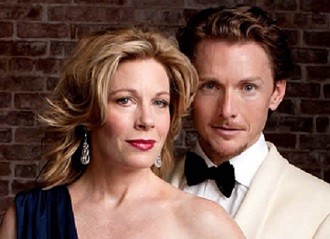 By Rebecca Portnoy, Associate Director of Communications, Concordia College   
Apr. 22, 2020: Concordia Conservatory will, for the first time, broadcast a Hoch Chamber Music Series concert. The broadcast will take place on Saturday, April 25, at 7 pm via the Concordia Conservatory YouTube channel, Optimum channels 19, 74 and 75, and Fios channels 34, 40, and 47.
Concordia College and the Conservatory hope that the joy of music – so evident in every concert of the beloved Hoch Series – brings comfort in a trying time.
The Conservatory is suggesting that if possible, music lovers make a night of it by enjoying a pre-concert Zoom cocktail party with friends and family, and take-out dinner delivery to support their favorite local restaurants.
The broadcast features Grammy Award-winning violist Lawrence Dutton of the Emerson String Quartet and bassist John Patitucci at Concordia College's Sommer Center, with Broadway's Golden Couple soprano Marin Mazzie and tenor Jason Danieley, violinists Elizabeth Lim-Dutton and Jee Sun Lee, cellist Julia Lichten, the Chamber String Orchestra, and the John Patitucci Trio. This cherished 2012 concert featuring songs of the heart took place before Mazzie's tragic death from cancer in 2018.
The first half of the concert includes Bach's The Art of the Fugue, No. 15, Mozart's String Duo, KV, 423, Dohnanyi's Serenade—Vivace, and Dvorak's Quintet No. 2 in G major, Op. 77—Scherzo & Trio. The second half features Broadway and concert stars Marin Mazzie and Jason Danieley singing a timeless array of songs, including My Foolish Heart, Be Careful, It's My Heart, and My Heart Stood Still with the Chamber String Orchestra featuring Lawrence Dutton and the John Patitucci Trio.
Jim Hoch has generously committed to supporting Concordia during this global pandemic. Details will be announced at the top of the broadcast on April 25.
For information about Concordia Conservatory, click here or call 914-671-9620.
Concordia Conservatory's mission is to inspire, instruct, and enrich lives through music by offering excellence in education and performance.
Pictured: Marin Mazzie and Jason Danieley 
Photo courtesy Concordia Conservatory

Editor's note: As a public service, MyhometownBronxville publishes articles from local institutions, officeholders, and individuals. MyhometownBronxville does not fact-check statements therein, and any opinions expressed do not necessarily reflect the thinking of its staff.