Notice
: Trying to get property of non-object in
/home/mhtb/public_html/plugins/system/modulesincontent.php
on line
93
| | | | |
| --- | --- | --- | --- |
| Active Aging Week September 23 to 30; See Activities | | | |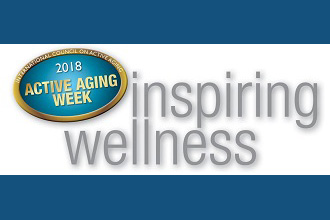 By Juliet Zygmunt, Chair, Active Aging Week Committee

Sep. 19, 2018: The Senior Citizens Council, The Bronxville Senior Citizens, The Tuckahoe Senior Citizens, and Gramatan Village invite adults age 55+ to inspire wellness within their community as part of Active Aging Week 2018.
Active Aging Week will kick off on Sunday, September 23, at 2:00 pm in the Yeager Room at the Bronxville Public Library with the Speeder 55+ Art Show and the Mary B. Turino Art Lecture, which is made possible by a generous gift from her family foundation in her memory and in recognition of her love for art and for her dedication, support, and founding of the Senior Citizens Council and the Bronxville and Tuckahoe senior centers. The guest speaker will be Charles T. Little, curator emeritus of medieval art and the Cloisters at The Metropolitan Museum of Art. A reception immediately follows the lecture.
The Speeder 55+ Art Show showcases the work of local artists over the age of 55 and runs from September 23 through October 27. The show is sponsored by the Bronxville Adult School, the Bronxville Public Library, Bronxville Senior Citizens, and Gramatan Village.
The 16th Annual Active Aging Week is an event promoted by the International Council on Active Aging. The weeklong campaign calls attention to and wholeheartedly celebrates the positivity of aging today. It showcases the capabilities of older adults as fully participating members of society and spotlights the role models that lead the way.
This year's theme, inspiring wellness, emphasizes engaging as fully as possible in all areas of life, regardless of health.
Along with organizations worldwide, the Senior Citizens Council, the Bronxville Senior Citizens, the Tuckahoe Senior Citizens, and Gramatan Village are supporting the initiative as host organizations embracing the inspiring wellness theme by offering activities to the public that promote healthy lifestyles.
Active Aging Week Programs Open to All Seniors 
Tuesday, September 25

Bronxville 
9:30 am: Bridge 
11:45 am: Exercise 
1:00 pm: NewYork-Presbyterian Lawrence Hospital's David Kovacevic, MD, presenting "Living with Shoulder Arthritis--Take Control of Your Pain" 
3:00 pm: Men's tai chi
Tuckahoe 
10:30 am: Exercise 
Noon: Yoga 
1:00 pm: Discussion of fall prevention with Angela Katz from the Westchester Medical Center
Wednesday, September 26

Gramatan Village 
10:00 am to noon and 1:00 to 3:00 pm: Financial empowerment workshops at Gramatan Village's offices. Lunch will be served at noon. Reservations are required.
Thursday, September 27

Bronxville 
9:15 am: Craft Class 
10:30 am: Tai chi 
11:45 am: Exercise 
12:30 pm: Mahjongg

Tuckahoe
10:30 am: Exercise 
Noon: Tai chi 
1:00 pm: Trivial Pursuit 1940s and 1950s Edition. Prizes awarded.
Bronxville Senior Citizens
Meet at The Reformed Church of Bronxville
180 Pondfield Road
Bronxville, NY 10708
914-793-2222
Tuckahoe Senior Citizens
Meet at Fr. Fata Hall
Assumption Church
125 Wallace Street
Tuckahoe, NY 10707
914-337-8487
Gramatan Village
85 Pondfield Road
Bronxville, NY 10708
914-337-1338
Editor's note: As a public service, MyhometownBronxville publishes articles from local institutions, officeholders, and individuals. MyhometownBronxville does not fact-check statements therein, and any opinions expressed therein do not necessarily reflect the thinking of its staff.