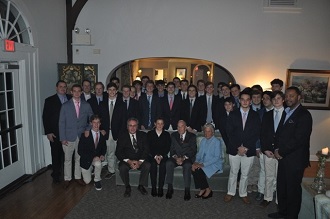 By Tim McGrath

Nov. 21, 2018:  On Thursday, November 8, the 75th Annual Fred H. McGrath Memorial Football Dinner was held at the Bronxville Field Club to honor the 2018 Bronxville High School varsity football team.
Fred McGrath watched his three sons, Fred Jr., Jake, and Bob, play football over the years at Bronxville. He became a consistent spectator and fan of the Broncos. Fred came to understand that football was teaching these boys more than just Xs and Os. He felt strongly that the sport was instilling graciousness in victory and dignity in defeat, building character along with the bonds of teammates.
Fred knew that the success of a season was not based solely on the record but included the development of individual players on and off the field. And so, when in 1943 the team had a winless season, Fred decided to honor the young men with a banquet at the Gramatan Hotel and a tradition was started.
Over the past 75 years, the McGrath dinner has boasted some very prominent speakers, including former commissioner of baseball Ford Frick, NFL commissioner Roger Goodell, former general manager of the Super Bowl-winning Indianapolis Colts Bill Polian, and former MLB legend Jackie Robinson, as well as numerous college coaches and players.
This year's speaker was Samantha Rapoport. Sam has worked for the NFL for the last 16 years and is presently the senior director of football development for the league. Sam spearheads programming that serves to retain, develop, and promote qualified diverse candidates into the football operations pipeline within each club as well as the league office. 
Two years ago, Sam created a program that serves to inspire and connect women to football operations in the NFL, CFL, and collegiate football programs. As a result, a record number twenty-nine female coaching, scouting, and operations interns have been hired into professional and college football programs since 2017. Sam has been awarded the NFL commissioner's Innovation Award for her creation of a program that sparked a girl's flag football movement in the country. She was also recently featured in People magazine's "25 Women Changing the World."
NFL commissioner and former Bronco Roger Goodell was unable to attend this year's dinner but, in his absence, wrote the team a letter to be read. He encouraged them not to allow this season's record to define them but to use it to learn and improve. He wrote, "As the years pass, you will reflect on this dinner and the importance of football in your life. The values and lessons you learn from football, winning and losing, will serve you well."
Since Fred H. McGrath's death in 1954, his family has continued the practice of hosting the varsity football team, school administrators, and present and former coaches. His son, Bob McGrath, a former player and coach for the Broncos, his wife, Bumpty, and their family have been steadfast in maintaining this Bronxville tradition.
Pictured here:  Seated (L-R): Ron Catena, Samantha Rapoport, Bob McGrath, and Bumpty McGrath. Standing: The 2018 Bronxville High School varsity football team.
Photo courtesy T. McGrath
Editor's note: As a public service, MyhometownBronxville publishes articles from local institutions, officeholders, and individuals. MyhometownBronxville does not fact-check statements therein, and any opinions expressed therein do not necessarily reflect the thinking of its staff.