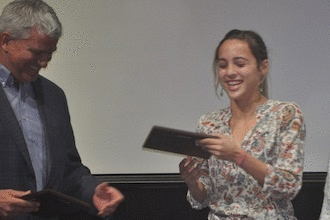 By S. Quinn DeJoy and J. Murrer     

Dec. 5, 2018:  At the sports awards evening on November 27, Bronxville School varsity athletes were recognized for their accomplishments during the fall season. Sixty-six Bronxville athletes were given All-League awards and fourteen were honored with All-Section or All-County recognition. In addition, many athletes were given special coaches' awards.
Athletic Council co-presidents Gigi Chrappa and Rachael Peacock introduced the evening by summarizing the accomplishments of the fall teams. Five teams--boys' and girls' cross country, girls' tennis, girls' soccer, and field hockey--won their respective league titles, and the girls' soccer and girls' cross-country teams also won sectional titles.
Many Broncos went on to compete at the New York State Championships. For the swim team, Ellie Dessart, Keala Schubert, Emily Gjersten, and Alisa Fominykh finished ninth in the 200 free relay, and Dessart, Julia Bazinet, Fominykh, and Gjersten placed 17th in the 400 free relay. The girls' cross country team placed second in the Class C State Championship, Matt Rizzo placed first in the Class C Cross Country State Championship, and Alex Rizzo placed fourth.
Athletic director Karen Peterson welcomed athletes and their families to the annual fall event and recognized the coaching staff for their commitment and hard work.
"Our coaches give a lot of their time and effort to the team starting in August during the preseason and continuing throughout the post-season," said Peterson. "It's a difficult job--it's a complex job. A lot of you just see what happens on the field during games, but they work tirelessly during practices and always have the best interests of the athletes in mind. I feel very fortunate to work with so many great educators on our coaching staff."
Peterson also gave a special message to the Bronco athletes: "As time goes by, your memory of wins and losses will fade a bit, some more than others. But of all the things, the one thing I hope you all walk away with this fall is a sense of working toward a common goal with friends and teammates. I hope you learn that success does not come easily and does not come without sacrifice and sometimes it doesn't come at all. Sometimes we have to step back and regroup and try again. But that's life, and that's why we have athletics in an educational setting--so that you can walk away with a skill set that will make you a better person."
The awardees are listed below.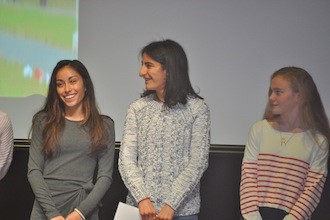 Girls' Cross Country
Coach: Jim Mitchell
Assistant Coach: David Ryan
Captains: Gigi Chrappa, Emma Mandanas, and Molly Palma
All-County: Natalie Weiner, Emma Mandanas, Patty Haggerty, Molly Palma
All-League: Lyndsie Schultz, Sophia Prior, Marguerite Scotti, Rory Denning, N. Weiner, E. Mandanas, M. Palma, Avery Widen, Anna Outcalt, Gigi Chrappa, Lyric Abbott, P. Haggerty, Betsy Marshall, Sophia Sulimirski, Ruby Howell
MVPs: E. Mandanas, N. Weiner
Graduating seniors: Lyric Abbott, Gigi Chrappa, Bella Dibbini, Patty Haggerty, Emma Mandanas, Sophia Sulimirski, and Natalie Weiner.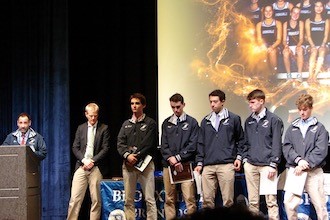 Boys' Cross Country
Coach: Jim Agnello
Assistant Coach: Ian Clark
Captains: Alex Rizzo, Matt Rizzo, and Timothy McGrath
All-Section: Alex Rizzo and Matt Rizzo
All-League: A. Rizzo, M. Rizzo, Ashton Smith, Tim McGrath, John Ryan, Trent Dillon, Joe Daher, James Apostolatos
All-League, Honorable Mention: Spencer Dessart, Charlie Gay, Billy Rizzo
Most Valuable Runners: A. and M. Rizzo
Most Improved Runner: J. Ryan
Bronco Spirit Award: Ashton Minich, Dylan Ruddy, S. Dessart
Graduating seniors: Trent Dillon, Charlie Gay, Timothy McGrath, Cory Ramundo, Ashton Smith, Alex Rizzo, Matt Rizzo, and Emmanuel Yimer.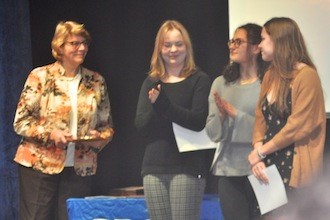 Girls' Swimming and Diving
Swimming Coach: Dominick Galimi
Assistant Coach: Claire O'Reilly
Diving Coach: Melanie DiLascio
Captains: Nina Veru and Alisa Fominynkh
All-League and All-Conference: Alisa Fominykh
Most Valuable Swimmer: A. Fominykh
Most Improved Swimmer: Keala Schubert
Breakout Performance: Julia Bazinet
Graduating seniors: Sophie Geer, Alisa Fominykh, and Nina Veru.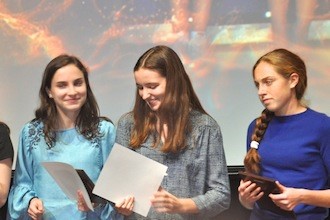 Girls' Tennis
Coach: Gillian McGovern
Captains: Sarah Goodell, Lindsey Cruikshank, and Alexandra Brumbaugh
All-League: E. Dani, L. Cruikshank, A. Brumbaugh, Katie Formato, Rory Christian, Sarah Goodell, Susie Goodell, Olivia Doyle, Isabella Patterson
Coaches' Award: A. Brumbaugh, S. Goodell, L. Cruikshank
Most Improved: E. Dani
Graduating seniors: Alexandra Brumbaugh, Hannah Beldotti, Linsey Cruikshank, Olivia Doyle, Sarah Goodell, Susie Goodell, and Eliza McFadden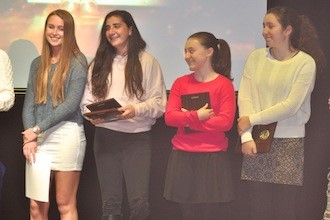 Field Hockey
Coach: Jacquelyn Frawley
Assistant: Cassie Caplan
Captains: Caroline Brashear and Mairead Cain
Golden Dozen: Fiona Jones
All-State: Caroline Brashear
All-Elite: C. Brashear and Bridget Sands
All-Section: Caroline Brashear
All-League: C. Brashear, B.Sands, Mairead Cain, Andrea Shephard, Sunday Ladas, F. Jones, Vance Wood, Grace McSherry, Hailey Mullen, Caitlin Mooney
All-League, Honorable Mention: Jenny Pettee, Holly Ungvary, Sarah Coneally
Most Valuable Defensive Player: C. Mooney
Most Valuable Offensive Player: S. Ladas
Coaches' Award: J. Pettee
Graduating seniors: Bridget Sands, Mairead Cain, Caroline Brashear, Andrea Shephard, Fiona Jones, Jenny Pettee, Sarah Conneally, and Vance Wood.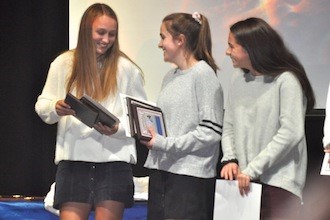 Girls' Soccer
Coach: Don Cupertino
Assistant Coaches: Scott Lucas, Caitlin Hoffer, Michaela Donohue
Captains: Rachael Peacock and Isabel Sondey
All-Section: Rachael Peacock, Isabelle Sondey, Catherine Faville and Victoria Ruffo.
All-League: R. Peacock, I. Sondey, C. Faville, Lily Jebejian, Kunzang Namgyal, Clio Dakolias, Kiki Tormey, V. Ruffo, Milly Koenig, Ashley Toal, Maeve Sullivan
Team MVP: R. Peacock
Defensive MVP: I. Sondey
Offensive MVP: C. Faville
Team Impact Award: V. Ruffo
Coaches' Award: Alex Doukas
Most Improved: M. Koenig
Graduating seniors: Catherine Faville, Rachael Peacock, Clio Dakolias, Kunzang Namgyal, Isabel Sondey, and Hayley Berry.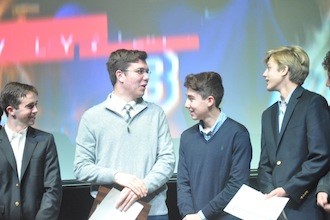 Boys' Soccer
Coach: Donald Lucas
Assistant Coaches: Sean Kenny
Captains: Paul Magaud and Luke Doukas
All-League: Paul Magaud, Luke Doukas, Theo Liao, Luke Freeman, Henry Sheehan.
All-League, Honorable Mention: Jack Kochansky, Jimmy Gallo, Aidan Sulimirski
Coach's Award: Luke Redman
Role Model Award: Lucas Rodembusch
Love of the Game Award: Jay Burnstein
Jack Murray Sportsmanship Award: Kevin Leka
Stu Bush Leadership Award: P. Magaud
Graduating seniors: Jack Kochansky, Paul Magaud, Lucas Rosembush, Jay Burstein, Luke Redman, and Kevin Leka.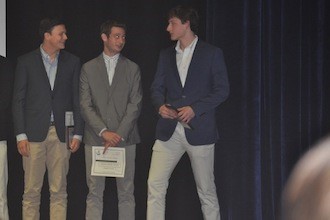 Football Team
Coach: Patsy Manganelli
Assistant Coaches: Danny Hoffer, Chris Scarella, Patrick Henderson and James Goldman
Captains: Seamus Watters, Tommy O'Connell, and Alex New
All-Section: Clark Stephens, Will Mayer
All-League: C. Stephens, W. Mayer, Andres Saralegui, Tommy O'Connell, Anastasios Samios, Alex New, Henry Donohue
Bob Burt Award: Jack Conneally
Vito Priore Award: T. O'Connell
John Fearon Award: A. Samois
Phil Kuczma Award: Seamus Watters
Offensive MVP: W. Mayer
Defensive MVP: A. Saralegui
MVP: C. Stephens
Graduating seniors: Seamus Watters, Quinn Daly, Jack Conneally, Liam Greely, Jack Palermo, Tommy O'Connell, Will Mayer, Andres Saralegui, Quin Madden, Sean Sullivan, Thomas Purdy, Brian Braumuller, Alex New, Lock McKelvy, Tass Samois, Patrick Mooney, and Mike Murray.
Volleyball
Coaches: Tashi Campbell-Tulloch
Graduating seniors:  Samantha Huss and Bailey Barton.
Go Broncos. 
Pictured at top (rotating): Assistant Coach David Ryan (left) hands out cross country awards; varsity field hockey players on stage during the awards ceremony; members of the varsity football team receive awards; the girls' soccer team receiving All-League awards. 
Photos by J. Murrer