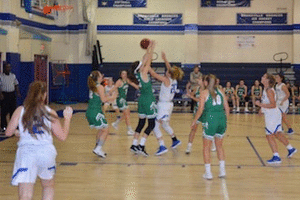 By Linda Pagano, Bronxville School Parent

Dec. 12, 2018: The Bronxville High School Athletic Department and Athletic Council will sponsor their Annual Bill Green Holiday Tournament December 13 to December 16 in memory of Bronxville's legendary coach.
Bill Green, a World War II naval pilot, came to Bronxville in the early 1960s as a physical education teacher and took over the reigns as athletic director from 1972 until his retirement in 1983. He was so dedicated to his Broncos that Green continued to coach the basketball team after his retirement until 1987. His career spanned over 25 years and included a trip to the 1982 quarterfinals of the New York State basketball championships. He was well respected and admired by his students and players and was honored with league coach of the year twice. Bronxville has hosted a December tournament since 1976, but it was renamed the Bill Green Holiday Tournament in his memory.
Bobby Russo, coach of the Bronxville boys' varsity basketball team, commented, "The best thing about this tournament is its tradition ... [and] it allows us to represent the community of Bronxville as a whole. If we come out on top, it's not just a victory for our program but also a victory for our community."
For Coach Russo, the biggest challenge this season is that the team has only four varsity players returning from last year.
"Our toughest challenge this year is how young we are as a group. We are a team that doesn't have much, if any, varsity basketball playing experience. Our success is going to be based off of how well our four returning players lead our younger guys."
The team may be somewhat inexperienced, but the players have been working incredibly hard both on and off the court.
"Right now, this team's chemistry is through the roof," said Coach Russo. The kids show up every day and work harder than any other team I have ever coached, and, because of this, they are going to be successful. It's my promise that when you come to a game, you're going to see basketball played the way it supposed to be played, as both a team and as a family."
The boys' and girls' Bronxville varsity teams will participate in the three-day tournament and host Ardsley, Nanuet, North Salem, Pleasantville, Rye Neck, and Stepinac. See the schedule below:
Thursday, December 13, 2018
Girls, 4:30 pm: Ardsley vs. North Salem
Girls, 6:00 pm: Bronxville vs. Rye Neck (Fan Game - Blue Out)
Friday, December 14, 2018
Boys, 5:00 pm: Stepinac vs. Nanuet
Boys, 7:00 pm: Bronxville vs. Pleasantville (Ugly Christmas Sweater)
Saturday, December 15, 2018
Girls, 11:00 am: Consolation Game
Boys, 1:00 pm: Consolation Game
Boys, 3:00 pm: Championship Game
Girls, 5:00 pm: Championship Game
Sunday, December 16, 2018
Reserved as the makeup day if inclement weather.
Team trophies will be awarded for first, second, and third place. Most valuable player and five all-tournament players will be named and selected by coaches.
There is complimentary admission. The Bronco Barn & Grill will host a satellite concession stand with all your comfort food favorites, perfect for enjoying with friends and the whole family. Do not forget to wear your Bronco gear at every game. There will be Bronxville fan Blue Out on Thursday at 6:00 pm and an Ugly Christmas Sweater night on Friday at 7:00 pm. This tournament is sure to be non-stop action and wholesome family fun for basketball enthusiasts and Bronco fans alike, again underscoring the Bronxville PTA Athletic Council's initiative of Broncos Together!
Go Broncos!!!
Pictured here (rotating): Boys' and girls' varsity basketball teams playing in the Bronxville gym.
Photos by L. Pagano 

Editor's note: As a public service, MyhometownBronxville publishes articles from local institutions, officeholders, and individuals. MyhometownBronxville does not fact-check statements therein, and any opinions expressed therein do not necessarily reflect the thinking of its staff.