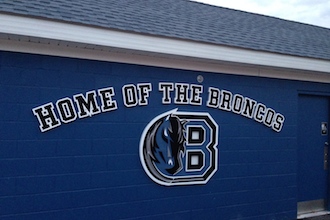 By S. Quinn DeJoy and J. Murrer

Dec. 12, 2018:  Bronxville athletes received all-star recognition from the Journal News last week. Fifteen Broncos were recognized as Westchester/Putnam All-Stars, and six were named to the first team.
Two players from the Bronxville girls' soccer team, midfielder Rachael Peacock and defensive player Isabel Sondey, were first team selections. Peacock was named League Player of the Year and in the post-season was named one of the Elite 12 scholar athletes. Sondey earned All-Section honors this fall after her defensive leadership helped take the Broncos to the regional finals.
Caroline Brashear, midfielder for the Bronco field hockey team, also earned first team honors. A four-year varsity player, Brashear was named All-League, All-Section, and All-State this fall.
Bronxville swimmer Alisa Fominykh earned first team honors with her fifth-place finish in the 50 free and second team recognition with her seventh-place finish in the 100 free at the New York State Championships. Fominykh was named All-League and All-Conference and was recognized as Bronxville's most valuable swimmer.
Matt Rizzo, a first team selection, was named Section 1 Runner of the Year. Matt placed first in Class C at the New York State Championships and will be running for Stanford next fall. Alex Rizzo also received first team honors. He won the Westchester County Championship and placed fourth in the Class C state championship. Alex will run for the U.S. Naval Academy next year.
See the complete list of all-stars below.
First Team
Rachael Peacock, soccer
Isabel Sondey, soccer
Caroline Brashear, field hockey
Alisa Fominykh, swimming
Matt Rizzo, cross country
Alex Rizzo, cross country 
Second Team
Catherine Faville, soccer
Natalie Weiner, cross country
Alisa Fominykh, swimming 
Honorable Mention
Victoria Ruffo, soccer
Bridget Sands, field hockey
Patty Haggerty, cross country
Molly Palma, cross country
Julia Bazinet, swimming
Emily Gjersten (Tuckahoe), swimming
Caroline McGrath, swimming 
Go Broncos.