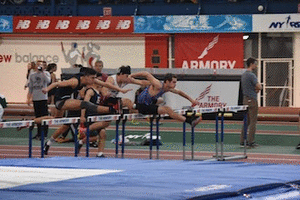 By S. Quinn DeJoy and J. Murrer

Dec. 19, 2018: The Broncos had four first-place finishes at the Tim St. Lawrence Invitational held at The Armory on December 14. The meet, named after local track and field legend Tim St. Lawrence, included 40 teams from the New York metropolitan area. St. Lawrence, often referred to as "Coach Saint," broke the New York state pole vault record (14-5 ¼) in 1966 and earned a full scholarship to the University of Alabama. He was the track and field and cross country coach at Warwick Valley High School for over 30 years.
Even though it is early in the winter season, the Bronxville boys looked strong. Seamus Watters placed first in the 55m hurdles in 8:17, Alex Rizzo finished first in the 1000m in 2:34.17, and Matt Rizzo took top honors in the mile in 4:27.59.
The girls' relay teams also had top finishes. The 4x800m relay (Natalie Weiner, Patty Haggerty, Eve Balseiro, and Caroline Brashear) placed first in 9:31.05, the fastest time in New York so far this season, and the 4x200m (Caroline Ircha, Molly Koenig, Alisa Kanganis, and Sabrina Mellinghoff) finished second in a time of 1:47.53, setting a new Bronxville School record.
Overall, it was a strong meet for the Broncos, and Coach Jim Mitchell is looking forward to the winter season.
"Sabrina Mellinghoff and Betsy Marshall had excellent 400s last week, and when they join up with Caroline Brashear and Eve Balseiro, that should give us a great 4x400," noted Mitchell. "Natalie Weiner, Patty Haggerty, Emma Mandanas, and Clio Dakolias have looked great at the middle distances, and sprinters led by ninth-grader Caroline Ircha are very strong."
The track teams are used to dealing with weather-related problems, but this winter is even more challenging. The is no home practice space because the Bronxville track is under construction, so they also have to juggle schedules to get practice time in Eastchester.
There is still one more meet before the holiday. The Bronxville track and field teams will compete at The Armory on Friday at the Jim Mitchell Invitational.
Go Broncos.
Girls' Top Ten Results
55m: Caroline Ircha, 8th, 7.66
400m: Sabrina Mellinghoff, 5th, 61.41; Betsy Marshall, 10th, 61.78
1000m: Clio Dakolias, 6th, 3:08.14
Pole Vault: Jules Gravier, 5th, 9'
4x200m relay: C. Ircha, Molly Koenig, Alisa Kanganis, S. Mellinghoff, 2nd, 1:47.53
4x800m relay: Natalie Weiner, Patty Haggerty, Eve Balseiro, Caroline Brashear, 1st, 9:31.05
Boys' Top Ten Results
55m: Seamus Watters, 4th, 6.88
1000m: Alex Rizzo, 1st, 2:34.17
1 mile: Matt Rizzo, 1st, 4:27.59
55m hurdles: S. Watters, 1st, 8.17
4x200m relay: Connor Randall, S. Watters, Zip Malley, Tommy O'Connell, 6th, 1:36.61
4x800m: A. Rizzo, M. Rizzo, John Ryan, Jack Kochansky, 5th, 8:32.77 
Pictured here (rotating): Bronco Seamus Watters won the 55m hurdles; Bronxville's Tim Murray competing in the high jump.
Photos by C. Rizzo