Bronxville Field Hockey Heads to the State Final Four With a Decisive Win Over Taconic Hills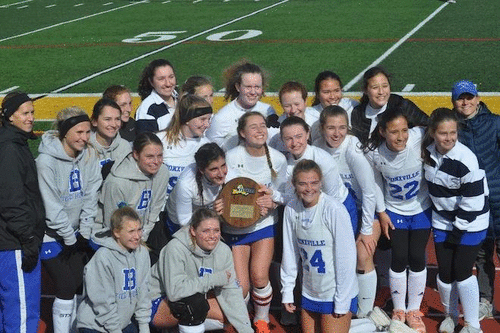 By S. Quinn DeJoy and J. Murrer
Nov. 13, 2019:  After winning the Class C Section 1 Championship, the Bronxville varsity field hockey team headed north to Lakeland High School to compete in the regional finals.
In the regional game against Taconic Hills, the Broncos wasted no time in scoring. Sunday Ladas found the back of the goal in the first two minutes, and teammates Holly Ungvary and Olivia Gunther added two more to put the Broncos up 3-0 at the half. Gunther scored one more time in the second half, and Grace McSherry added a goal on a penalty stroke to give the Broncos a 5-0 victory. Julia Widen had two assists.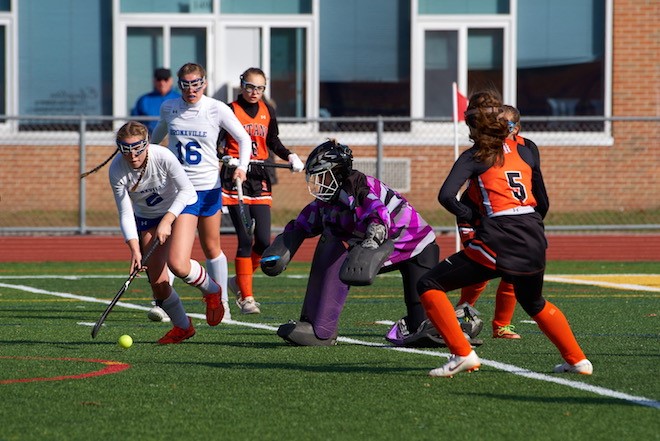 Senior captain Holly Ungvary about to score for the Broncos. Photo by David Fenner.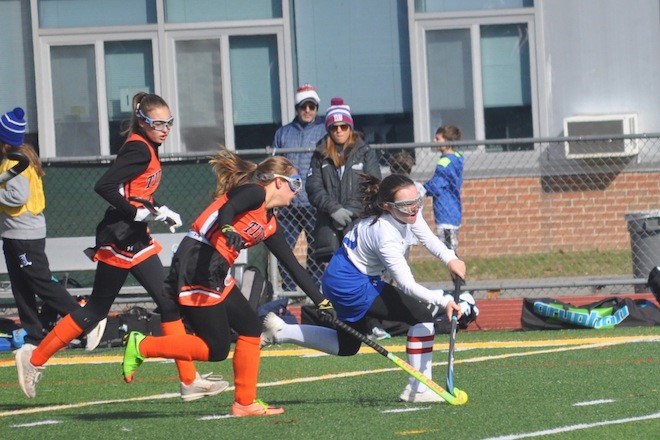 Senior captain Grace McSherry leads the defense in the shutout. Photo by J. Murrer.
The Broncos offense never let up taking shot after shot on the goal. Taconic Hills goalie, Sydney Kieran, made 19 saves, and Bronxville goalie Caitlin Mooney had just one.
"This game was a great reflection of how well these girls have clicked on the field," said Coach Jacquelyn Frawley. "They are confident in themselves and their teammates, and they have a common goal - to keep winning!"
Sophomore Olivia Gunther was named Player of the Game.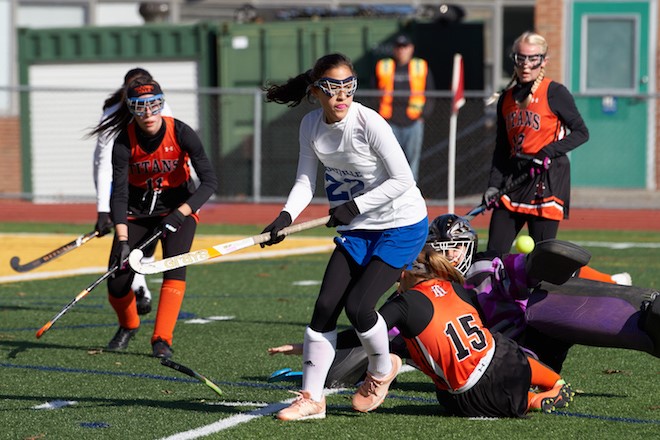 Olivia Gunther (22). Photo by David Fenner.
The Broncos (15-3-2) will travel to Buffalo to play in the state semifinals against Section 6 Barker High School (17-3) on Saturday morning. It should be a competitive game as both the Broncos and the Raiders have recorded 14 shutouts this season.
"We look forward to entering the tournament as a finalist," said Frawley. "What an honor to be one of the final four teams still competing in Class C. We bring ten seniors who have a lot of experience and composure to get the job done - while our underclassmen are feisty in front of the goal!"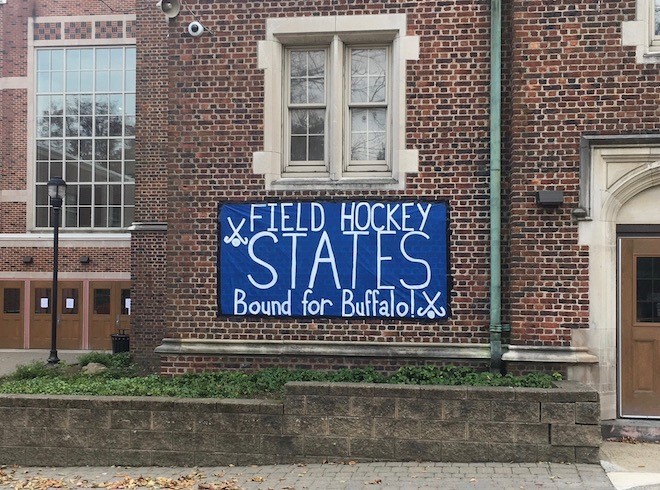 In the other Class C semifinal, Carle Place (Section 8) will play Johnstown (Section 2). Both Class C semifinal games will take place on Saturday at 10 AM, and the state final game is scheduled for Sunday at 10 AM. The Class C games will be broadcast live at https://www.nfhsnetwork.com/playoffs/section/new-york-state.
Field Hockey Team Roster
Senior Captains
Holly Ungvary
Sunday Ladas
Grace McSherry
Seniors
Caitlin Mooney
Madison Meehan
Cassidy Mullen
Hailey Mullen
Molly Denning
Olivia Martin
Hanna Bishop
Juniors
Rachel Roberts
Isabelle Kennedy
Annabelle Krause
Caroline Palermo
Marielle Dibbini
Sophomores
Shay Sipple
Natalie Gunther
Olivia Gunther
Carmen Phillips
Freshman
Isabela Fenner
8th-Grader
Julia Widen

Go Broncos!

Pictured at top in rotation:  (1) The Broncos holding the regional championship plaque after their victory over Taconic Hills. Photo by J. Murrer and (2) Freshman midfielder Olivia Gunther controls the ball in the regional contest against Taconic Hills last Saturday. Photo by J. Murrer.