Bronxville Athletes Honored at 2019 Fall Sports Award Evening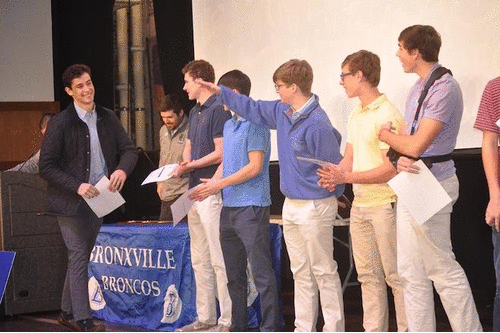 By S. Quinn DeJoy and J. Murrer
Dec. 4, 2019:  Students, coaches, and parents gathered in the high school auditorium before the Thanksgiving break to recognize the varsity athletes for their accomplishments during the fall sports season.
Athletic Council Tri-presidents Hanna Bishop, Tim Murray, and Grace McSherry hosted the awards ceremony and introduced the Bronco teams. The girls' soccer and cross country teams won their respective league championships, the boys' soccer team won the league and sectional championship, and the girls field hockey team won leagues, sectionals, and the State Championship.
Bronxville athletes were recognized with 52 All-League awards, and eleven Broncos were honored with All-Section awards. Field hockey senior Sunday Ladas received All-State honors.
Bronxville coaches also received accolades. Jacqueline Frawley was named Field Hockey Coach of the Year for Conference 3, Coach Donny Lucas was named Section 1 Coach of the Year for Class B boys' soccer, and Coach Patsy Manganelli was honored with the Section 1, Class B Co-Coach of the Year award for football.
"We have one of the best coaching staffs in Section 1, and I am very proud to work with them every day," said Athletic Director Karen Peterson in her opening remarks at the sports award ceremony. "I see how much they care for all of you as athletes, and how much they care for Bronco athletics, so a big thank you to our coaches. "
Peterson also addressed the athletes, told them to be proud of their accomplishments, and thanked them for their participation in Bronxville athletics.
"We celebrate you and your team, and our teams need each and every one of you. You have all helped us make this a very positive season for our school and community, and you set that goal early in the fall and succeeded. We want to thank you all for that."
Go Broncos.
Award winners are listed below. 
Field Hockey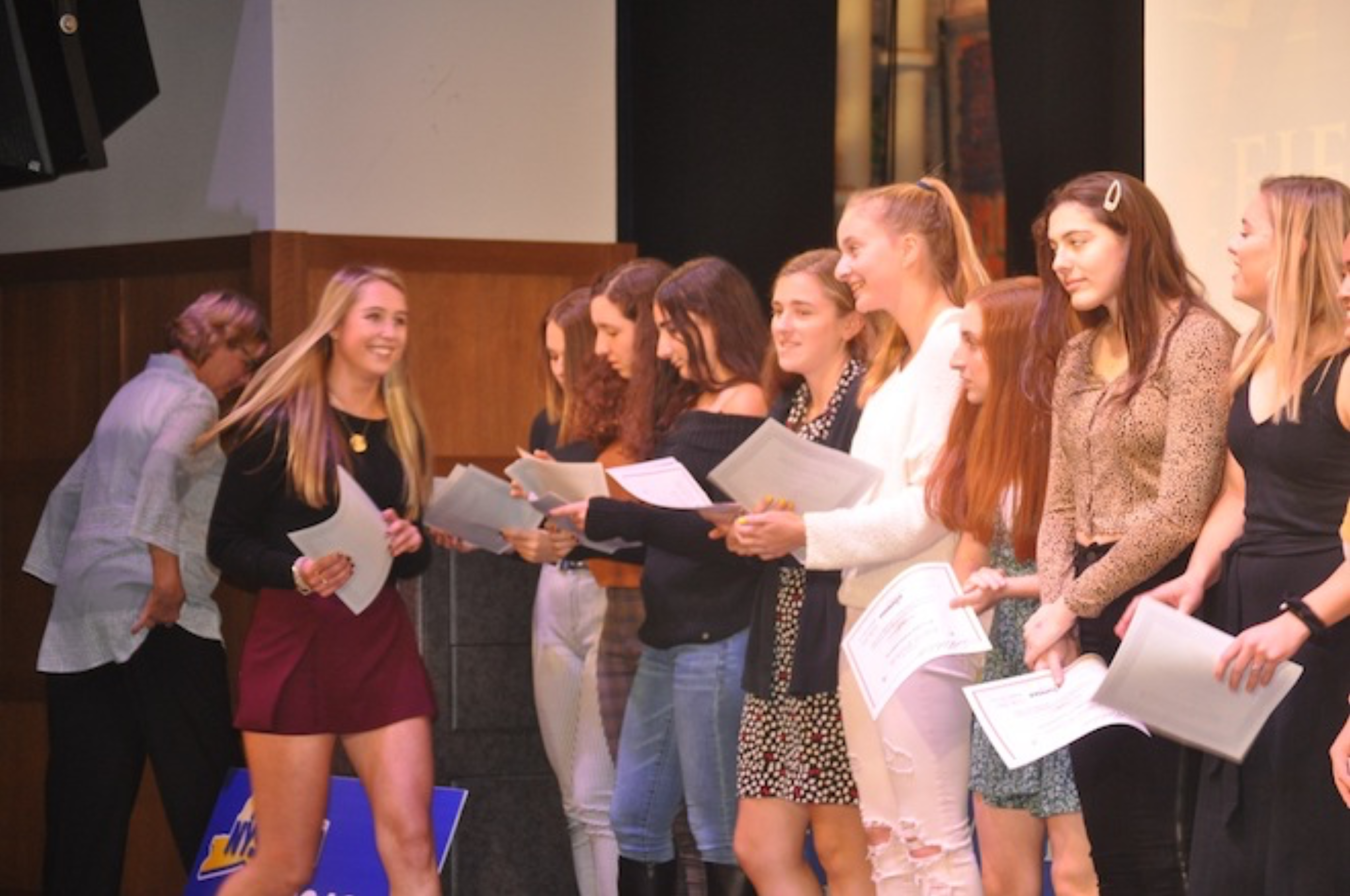 Coach: Jacquelyn Frawley
Assistant: Leslie Morris
Captains: Sunday Ladas, Holly Ungvary, Grace McSherry
Golden Dozen: Caitlin Mooney and Grace McSherry
All-State: Sunday Ladas
All-Elite and All-Section: S. Ladas, G. McSherry
All-League: Hanna Bishop, S. Ladas, G. McSherry, C. Mooney, Cassidy Mullen, Hailey Mullen, Holly Ungvary
All-League, Honorable Mention: Madison Meehan, Molly Denning, Olivia Gunther, Julia Widen
Rookie of the Year: J. Widen
Most Improved: M. Meehan
Heart and Hustle: H. Bishop
Graduating Seniors: Holly Ungvary, Grace McSherry, Sunday Ladas, Caitlin Mooney, Hanna Bishop, Madison Meehan, Cassidy Mullen, Hailey Mullen, Molly Denning, and Olivia Martin.
Girls' Soccer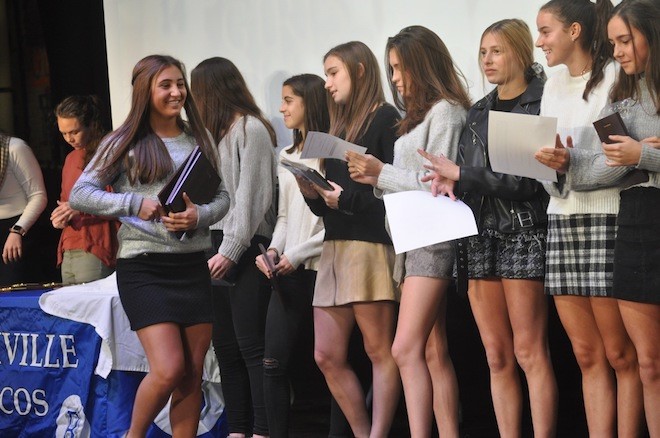 Coach: Don Cupertino
Assistant Coaches: Caitlin Hoffer, Michaela Donohue, Killian Donohoue
Captains: Ashley Toal, Victoria Ruffo, Maeve Sullivan, and Alex Doukas
All-Section: Victoria Ruffo, Lily Jebejian, Milly Koenig, Alex Doukas
All-Section, Honorable Mention: Maeve Sullivan, Ashley Toal
All-League: V. Ruffo, L. Jebejian, M. Koenig, A. Doukas, A. Toal, Alice Vranka, Ava Black, Kiki Tormey, Jessica Sonday, Maeve Sullivan
All-League, Honorable Mention: Bridget Finley
Heart and Hustle Award: A. Vranka
Defensive MVP: V. Ruffo
Offensive MVP: A. Doukas
Team Impact Award: L. Jebejian
Coaches' Award: Jane Becker
Leadership Award: M. Sullivan
Graduating Seniors: Ava Downs and Chloe Slater

Boys' Soccer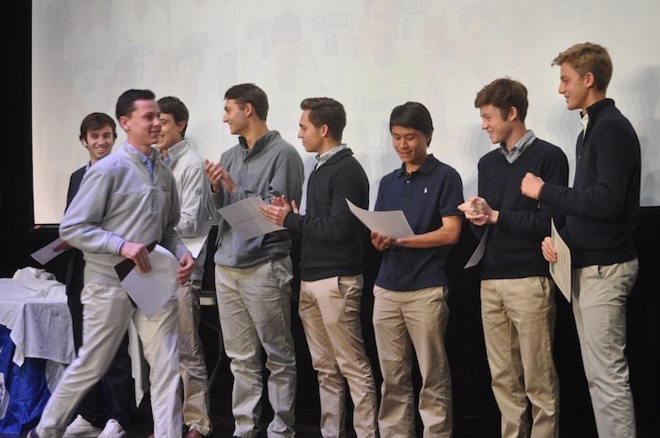 Coach: Donald Lucas
Assistant Coaches: Sean Kenny, Alessandro Persampieri
Captains: Theo Liao, Jimmy Gallo, Luke Doukas
Small School Player of the Year: Luke Doukas
All-State: L. Doukas
All-Section: Jimmy Gallo, L. Doukas
All-Section, Honorable Mention: Theo Liao, Luke Freeman
All-League: L. Doukas, J. Gallo, T. Liao, L. Freeman, Griffin Patterson, Henry Sheehan, Will Redman
All-League, Honorable Mention: Eco Valdes, Casey McKhann, Liam Sands, Austin Boyd
Rookie of the Year: L. Sands
Jack Murray Sportsmanship Award: Jed Hodulik
Stu Bush Leadership Award: L. Freeman
Graduating Seniors: Theo Liao, Jimmy Gallo, Eco Valdes, Luke Doukas, Theo Sperber, Michael Burstein, Tim Murray, Luke Freeman, and Jed Hodulik

Football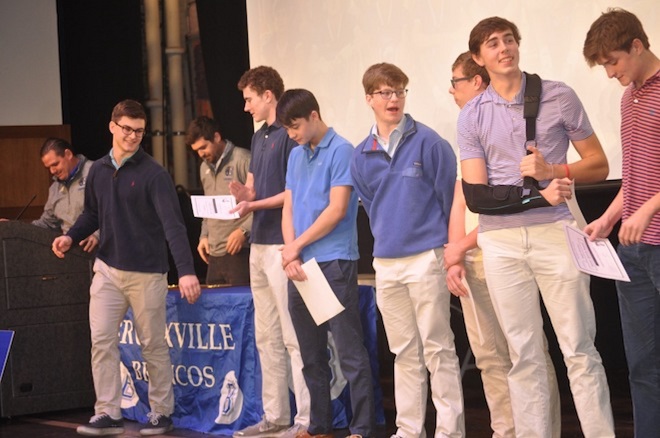 Coach: Patsy Manganelli
Assistant Coaches: Patrick Henderson, Chris Scarella, Vinny Narog, James Goldman
Captains: Colin Dempsey, Henry Donohue, Grey Warble

All-Section: Henry Donohue
All-Conference: Grey Warble, Will Flanagan
Class B Wide Receiver of the Year: W. Flanagan
Class B Linebacker of the Year: H. Donohue
All-League: Colin Dempsey, Connor Randall, Philip Meyers, George McCormick, T.J. Curran
All-League, Honorable Mention: Charlie Knox, Will Murray, Jay Coyne
Bob Burt Award: Jack Matthews
Vito Priore Award: G. Warble
Jack Fearon Award: C. Knox
Phil Kuczma Award: P. Meyers
Offensive MVP: W. Flanagan
Defensive MVP: P.J. Krestinski
MVP: H. Donohue
Graduating Seniors: Teddy Donohue, Philip Meyers, Charlie Knox, Grey Warble, Charlie Ambrose, Harry Villanueva, Will Flanagan, Dylan Alberghine, P.J. Krestinski, Colin Dempsey, Jack Matthews
Girls' Cross Country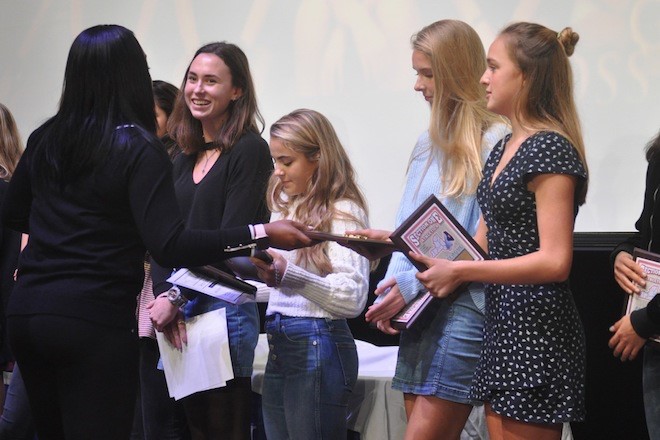 Coach: David Ryan
Assistant Coach: Keina Samuels
Captains: Molly Palma, Avery Widen
All-League: Ruby Howell, Molly Palma, Ella Stupart, Avery Widen, Betsy Marshall, Remi Mellinghoff, Anna Outcalt, Rachel Conniff, Rory Denning, Skyler Martin, Kailee Fino
All-League, Honorable Mention: Masha Popovic, Sophia Prior, Athena Howell, Nadia Newton, Lyndsie Schultz, Audrey Spiegel
MVPs: M. Palma, E. Stupart, B. Marshall
Graduating seniors: Eve Balsiero, Ruby Howell, Alisa Kanganis, Sabrina Mellinghoff, Molly Palma, Masha Popovic, Sophia Prior, Ella Stupart, Amanda Troy

Boys' Cross Country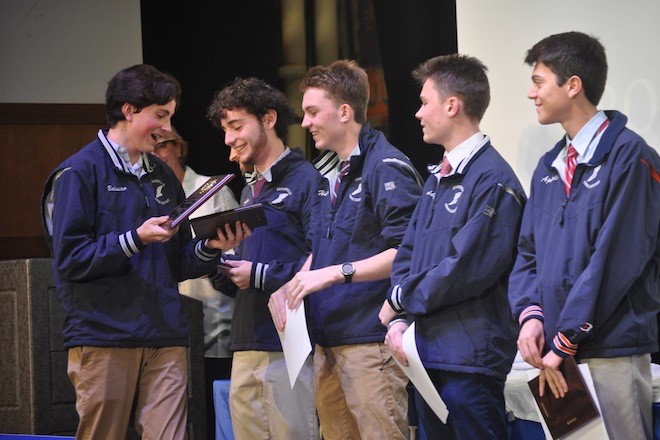 Coach: Jim Agnello
Assistant Coach: Vic Palumbo
Captains: Dylan Ruddy, James Apostolatos, Joe Daher
All-League: James Apostolatos, James Balseiro, Finn Ruhanen, Luke Sheehan, Ben Mandanas, Joe Daher, Billy Rizzo, John Ryan
All-League, Honorable Mention: Owen Atkeson, Dylan Ruddy, Spencer Blumenreich, Liam Dollar
Most Valuable Runner: J. Ryan
Most Valuable Runner, Freshman: Sean McGrath
Most Improved Runner: J. Balseiro
Bronco Spirit Award: O. Atkeson, Cian Marluccio, Alexey Gorbunov
Graduating seniors: James Apostolatos, Joe Daher, Benjamin Hanley, Brian Li, Dylan Ruddy

Girls' Swimming and Diving: Bronxville-Tuckahoe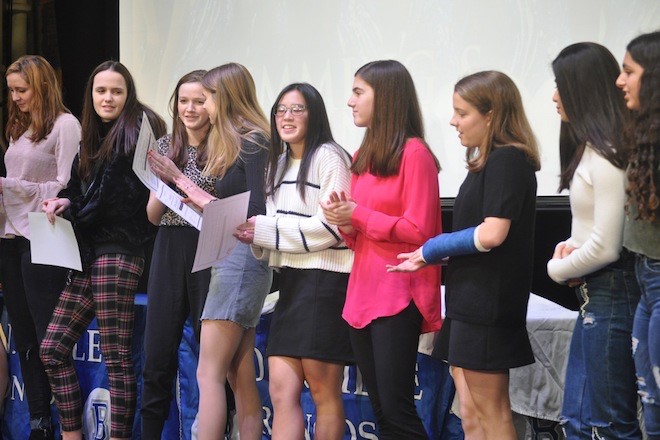 Swimming Coach: Dominick Galimi
Assistant Coach: Claire O'Reilly
Captains: Jacqueline Coquillette, Eileen Marshall
All-League: Julia Bazinet
Most Valuable Swimmer: Julia Bazinet
Most Valuable Diver: Keala Tatarian
Most Improved Swimmer: Marian Schafer

Girls' Tennis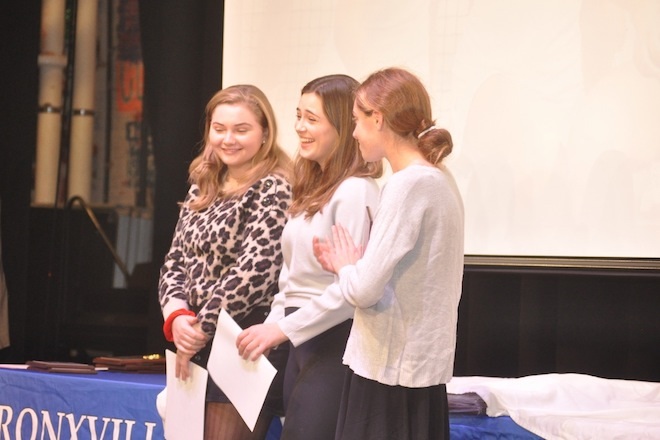 Coach:  Steve Klurfeld
Captains:  Eva Dani, Amelia Srebnik, Katie Formato
All-Section: Rory Christian, Eva Dana
All-League: Katie Formato, R. Christian, E. Dani
Coaches' Award: A. Srebnik
Most Valuable Player: K. Formato
Rookie of the Year: Fiona Vail
Graduating Seniors: Eva Dani, Amelia Srebnik, Sophia Ricciarini

Photos by J. Murrer

{jcomments on}{jcomments off}